Samuel Barkoye of North Georgetown Primary and Rovin Lall of Stella Maris Primary, shared the spot as best performing students at the 2020 National Grade Six Assessment (NGSA), attaining 525 each out of the maximum 528 marks possible, as this year saw improved performances by the male pupils at the exams.
With 524 marks, the third spot went to Marian Academy's Alexander Singh, while with 523 marks apiece Mon Repos Primary Lianna Dharampaul and Westfield Prep's Brandon Ramdin shared fourth place.
Three pupils shared the sixth position after they attained 521 marks each, they are: Britney Peters of One Mile Primary in Region 10; Gabriel Felix of New Guyana School and Dhanesh Tularam of Academy of Excellence in Region Three.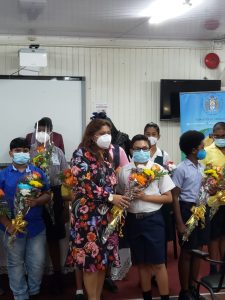 Ninth position was shared by four candidates, namely: Yuri Clarke, Charisma Etwaroo and Salmah Bacchus all of Academy of Excellence and Robert Forrester of Winfer Gardens Primary.
The results were announced by Minister of Education, Priya Manickchand at a press briefing held on Monday at the National Centre for Educational Resource Development (NCERD) in Kingston.
Prior to releasing the results, the Minister called on the students to remember that regardless of what school they get placed at, the NGSA results are just a stepping stone in their academic pursuits and not the end of it.
"What we say here does not define who you are. You can do as well as the Queens College students we just don't have the space it is simple as that," Minister Manickchand appeal.
The Minister noted that greater equity at secondary schools across the country will be done, to put less pressure on students to attain marks for the top secondary schools.
"We promise that the quality and standard at schools across the country will improve. To everyone this is a placement exam written not to say whether you are smart or not. We don't have the kind of equality we need across secondary, but that will change. You will be placed at different schools but you can do well wherever you go," the Minister charged.
Held annually the NGSA administers exams to students in Mathematics, English, Social Studies and Science, to assess them for placement in a secondary school. This year saw improvements by students in English, Social Studies and Science while there was a dip in the pass rate in Mathematics.
This year the cut off scores for the top secondary schools are: Queen's College 512; Bishops' High School 508; St Stanislaus College 505; St Rose's High 502; St Joseph High 499 and President's College 490.