REGION One Police Commander, Superintendent Jairam Ramlakhan, and a team, on Saturday, carried out a COVID-19 enforcement campaign at the Kumaka Water Front, North West District (NWD), and 35 persons were arrested and charged with breaching of the restriction orders.
They are scheduled to appear via Skype at the Mabaruma Magistrate's Court on Thursday, September 24, 2020.
During the campaign, the commander distributed printed copies of the current gazetted COVID-19 emergency measures to businesses and persons within the Kumaka District and several neighbouring villages.
He also pointed out and explained some of the restrictive orders to those persons who claimed to have no prior knowledge of such measures.
The commander said the aim was to sensitise persons, including owners and operators of businesses who are continuously failing to adhere to the emergency guidelines.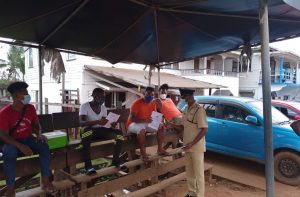 Additionally, on Saturday, the commander and team formed a station management committee in Acquero (Santa Rosa Village). This is only one of several formed since he took command of the region earlier this year.
On a recent visit to Baramita, Commander Ramlakhan, as part of his initiative to have better police/community relationship in the region, held a meeting with several persons in the community and formed a Station Management Committee there too.
He explained the goal is to have the community work in collaboration with Baramita Police to reduce crimes, social threats and, where possible, address the structural and equipment needs of the Baramita Police Station, through fund-raising events.
With donations from miners and others coming in, a freezer will be bought along with a generator and it will be handed over to the Baramita Police on Wednesday, September 23, 2020 before a fundraising event to develop the committee.