REGION Two Regional Executive Officer (REO) Devanand Ramdatt said frontline workers will be receiving food hampers from the Region Two administration. He was at the time speaking at a handing-over ceremony held recently at the Regional State House.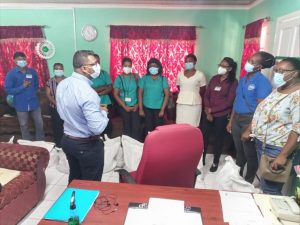 Ramdatt said during the pandemic, many workers attached to the regional health team have been risking their lives to conduct screening. He said the regional administration would therefore like to appreciate their efforts by a gift of food hampers. He particularly singled out the environmental health officers who are currently at various ports conducting regular screening.
On Tuesday, the environmental health staff received their food hampers. The hampers were distributed by newly appointed Regional Health Officer Dr Ranjeev Singh. Dr Singh during the presentation commended the efforts of the environmental health officers in ensuring that every person entering the region is screened.
Environmental health officers who received the hampers were very thankful for the recognition and commended the regional administration and the Regional Health Emergency Committee for the assistance. The officers are at the Supenaam, Good Hope, and Charity ports of entry screening passengers. Thus far, only three persons are in isolation at the Suddie Public Hospital. The region has recorded 25 positive cases with 22 already recovered.