POLICE have arrested a 21- year-old man on Tuesday afternoon in connection to the murder of a 24-year-old fisherman of Kilcoy Settlement, East Berbice, Corentyne.
John Alexander Yhap, a captain of a fishing vessel and a father of two, lost his life after he was stabbed by a fellow villager during an altercation.
According to information received, the 21-year-old suspect, identified as Anthony Mohabir called "Piken'', and Yhap had a prior altercation on Tuesday of last week, where Yhap was stabbed to the neck by Mohabir, which required multiple sutures, after he went to a female acquaintance that Mohabir likes, to get his hair braided.
That incident was reported to the police.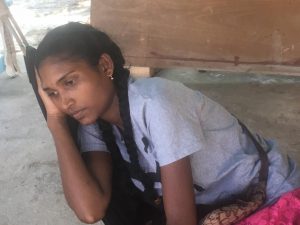 Sometime around 21:00 hours on Monday night, at a Superbet location in Chesney, with tensions still rife from the previous feud, the men got into another argument after Mohabir started to verbally abuse Yhap for returning to the said female to braid his hair earlier that day.
During the argument, Mohabir allegedly whipped out a knife from his waist and dealt Yhap three stab wounds before fleeing the scene.
The injured Yhap sat on a makeshift ramp outside of the Superbet location, one street away from his home, bleeding profusely, before he was taken to the Port Mourant Hospital, some 30 minutes later and subsequently transferred to New Amsterdam Hospital where he succumbed while receiving medical attention. The suspect fled the scene.
The suspect reportedly hid throughout the night from the police and boarded a fishing vessel sea bound at around 05:00 hours on Tuesday morning in a bid to flee the jurisdiction, but was arrested at around on Tuesday afternoon when the police went out to sea to get him.
Meanwhile, the death of Yhap has left his 22-year-old wife, Minesha Chandralall, at wits end trying to figure out how she will be able to provide for her children ages two and five.
Chandralall told the Guyana Chronicle that she is still shocked by news of her husband's death, especially given that she is still trying to cope with the death of her mother only a week ago.
The woman, in tears, explained that her husband was her main support in coping with her mother's death but now that he is gone too, she does not know how she will be able to survive.
"Meh husband is the only person meh does depend on, now me nah get nobody. When I get the message that he get stabbed I rush to go out since I just come out the bathroom but by the time I reach them carry he hospital," she related.
The mother of two added that while she was making her way to the scene, she came face-to- face with her husband's killer who had the alleged murder weapon in his hand and blood on his clothes.
"I asked he why you do that and he seh meh get more fuh am; that nah done yet."
She explained that recently, her husband braided his hair by a female and because of that, the suspect became upset and even complained to her.
"I tell he meh husband nah like that but he still start problem with meh husband, now meh husband dead just so," she said in tears. Police are investigating the incident.