THE Guyana Golf Association (GGA) announced that several hundred golf clubs and other equipment were part of a contribution to the development of the sport in Guyana from Bob Maibusch, owner of Pine Grove Springs Golf Course in New Hampshire, USA.
Maibusch was contacted by GGA president Aleem Hussain. According to the president, the foreign pro golfer readily agreed to assist in the growth of the game; especially in light of the recent attention being given by women and children since the opening of the Nexgen Golf Academy & Driving Range.
Bob and his daughter are heavily involved in the teaching, designing and operations of Golf courses around the United States and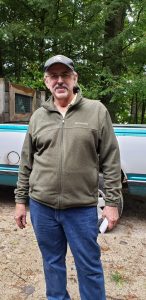 instantly agreed to partner with the GGA in his words "for the love of the game".
Recently a number of clubs, balls, and other pieces of equipment were collected and shipped through the sterling efforts of Aleena and Bill Knight of New York and is expected to arrive in Guyana by month-end.
Hussain said that the equipment was much needed and would supplement the previous sets contributed by Danny Ramnarain and Anwar 'Buddy' Shaffie, Colin Ming, and the Shafura Hussain Foundation over the past few months.
"With the help of so many people, we are now in a strong position to provide equipment, balls and training for hundreds of students and newcomers to the sport," said Hussain.
Hussain said that the move also plays a role in golf development as recent talks with Sport Minister Charles Ramson Jr were fruitful. According to Hussain the minister acknowledged that golf is one of the sports which allow for social distancing, but at the same time still creates a fun outdoor atmosphere, especially for children who have their extracurricular lives halted by the COVID-19 pandemic.
The Academy & Driving Range on Woolford Avenue is open from 08:00hrs to 17:00hrs daily with accommodation being provided for up to 20 persons per hour in accordance with social-distancing requirements. (Clifton Ross)