THE advent of COVID-19 has given Dexter Marques enough time to think and reflect. In doing so, Marques came to grips with the fact that he really has two persons on his mind. One is Leon `Hurry Up' Moore and the other is Elton Dharry.
The obvious reason is that both gave him the two blemishes on his professional record.
Moore TKOed Marques in the second round in June 2009. However, fresher in the memory of the former national bantamweight champion is his loss to Dharry.
Marques was stopped in the seventh round by his USA-based opponent in May 2011 at Cliff Anderson Sports Hall. At stake then was the World Boxing Council (WBC) CABOFE bantamweight title.
The defeat has left a sour taste in the mouth of the stylish fighter who has ever since been hoping to repay Dharry, in full. 
So while COVID-19 has caused others to let their guards down, Marques would have been filling up on ways to attract and then defeat Dharry. 
"Leon Moore doesn't fight anymore so I don't think there is a way of me getting him out of retirement. I'll have to live with that. Dharry is currently active and fair game. I did a lot of wrong things in our previous fight and I now better understand the way to take care of this youngster once he has the guts to get back into the ring," Marques bragged recently.
So confident is the former champion that he has forwarded a request to promoter Seon Bristol of Bris O Promotions to make the event happen.
"Next four, five or six months, next year doesn't matter to me. But the earlier we get it on the better. Once COVID-19 is off I'll say let's get it on," Marques added.
When contacted, the Brooklyn USA-based boxing promoter Bristol acknowledged that he has been approached and has interest in making the card he dubbed, `Return of the Dragon' happen.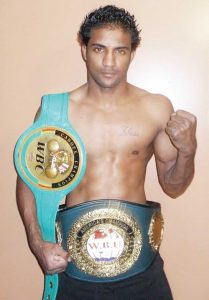 "I have had extended relationships with both fighters and in my opinion they make solid foundation for a mega event in Guyana. However, a lot will depend on COVID-19. Once we can get past that then it's a go for me," Bristol stated.
"We have heard from Marques. I think the appropriate thing now would be to hear from the Dharry camp," the promoter concluded.
Since his last defeat, Marques has chalked up nine victories. He has not competed since January 2018 but is confident that two months of work will put him in the shape that will worry, confuse and ultimately defeat his USA-based opponent.
"I am never too far from the gym. I live the life of a true fighter. This fact is easy to prove, just get Dharry into the ring. I am now turning this over to Mr Bristol and Dharry. Let's get ready to rumble."