By Michel Outridge
KALIA Lorraine Bynoe is very much gifted and talented for her age and she is the kind of child who would turn heads wherever she goes and cause people to take a second look.
She is just six years old and has a very unique talent with which she can achieve unattainable moves that regular people cannot accomplish ordinarily hand stands and other tricks.
Unbelievably, she was self-taught by looking at her older sister do her dance practices around the house after returning from dancing classes.
Her sibling, Kelsie Bynoe, 12, is a student of the National School of Dance in the city, but since the pandemic, she has been at home.
According to Kalia's mother Tenesha Bynoe, her youngest child has been doing all these extraordinary stretches since she started to walk and as she got older, she began to get even better.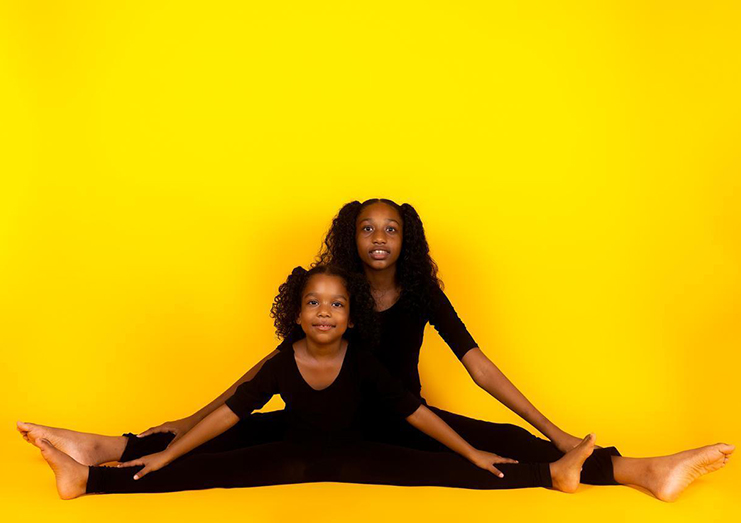 "At first I thought it was odd seeing her do all these things like standing on her head, but then I got used to it and it became normal for us in the home to see her do some unusual stretches," she said.
This amazing child hails from Atlantic Ville, East Coast Demerara and is a pupil of the Turkeyen Nursery School.
Whenever school re-opens she is expected to start primary school and she is looking forward to it very much.
Bynoe told the Pepperpot Magazine that so far she has embraced the fact that her daughter is special in so many ways, because she was not taught anything, yet she was able to grasp a lot just by watching her sister doing her dance moves.
The mother of two explained that maybe it runs in the family, because she is into yoga and then her oldest daughter is a dance student, so it might very well be that.
When Kalia celebrated her sixth birth anniversary on August 19 this year, her parents facilitated a photo shoot to observe the occasion and a professional photographer was sought to capture a few studio photos.
After that the Bynoes placed some of the photos via Facebook and she was surprised at the response she got when many people messaged her to ask her to enrol her daughter in their dance school to realise her full potential.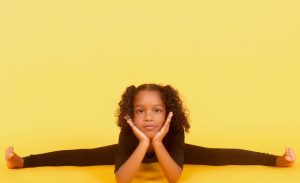 "I was a bit taken aback by the overwhelming response from people when they saw her photos on Facebook, but I have an open mind when it comes to my children's future; so I will explore the possibilities before I put her in any dance school because she is very determined and knows what she wants, even at her tender age," she said.
With schools closed since March this year due to the novel coronavirus (COVID-19), Bynoe and her husband Kevin would take the children on the seawall in the afternoons for a stroll.
"When we go out there Kalia would do her flexes, stretches, splits and other moves and it would get the attention of people and they would dote on her and tell her how talented she is," she said.
Bynoe related that Kalia gets a lot of attention, because when people see her they are simply fascinated and in awe of what she can do with her body.
Describing little Kalia, her mother said she is very talkative at home and would even try to control her sister, but when she is out she would remain aloof.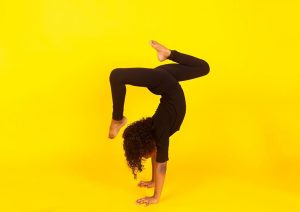 "Kalia is friendly, but if she is not familiar with you she would not say much," she said.
Bynoe explained that her daughter is positive about what she wants in life and she even asked them to buy certain equipment for her to exercise.
In her spare time Kalia would watch YouTube videos of gymnasts and aerobatics, so she is aware of certain things and has people she would admire.
"Kalia is a very active child so we try to keep up with her, so that's why we would go on the seawall which isn't far from our home and take a walk," she said.
For now, Kalia is home-schooled by her mother for at least two hours per day and she gets some free time to do whatever she wants, that is, within the confines of home.