— platform to be launched to provide access to academic assistance
A GROUP of five Guyanese youths, who withstood financial challenges to pursue their studies, are now giving back in a way set to significantly improve access to academic assistance and development in Guyana to disadvantaged youths.
Soon more Guyanese will become familiar with Malik Williams, 19; Andrew Garnett, 21; Jun Leung, 21; Shomari Williams, 21 and Ryhan Chand, 22, who have teamed up to launch the Unity.GY platform at the end of this month.
Unity.GY is a donor platform that aims to promote youth development in Guyana by connecting donees with donors who possess the relevant, tangible and intangible resources.
The platform caters to youths at all levels of education who are experiencing academic challenges and, apart from monetary donations, will facilitate acts of philanthropy in the form of guidance, training and opportunities.
The platform is at its final stage of development and, one of its developers, Andrew Garnett, spoke to the newspaper on Sunday about the motivation behind it all.
"The majority of us came from poor backgrounds. We had a lot of friends who we saw struggle to progress themselves and while we were fortunate enough to get these opportunities, we saw that some of these people had serious issues. Even if they worked hard or they did everything right, they weren't able to progress simply due to the fact that they weren't able to connect with people who could provide them with these opportunities. So, our idea basically revolves around giving these people a chance or some direct method they can use to level the playing field in Guyana," Garnett said.
Four of the co-founders are from the University of Guyana (UG) while one studied at the University of the West Indies (UWI). Two of them are still studying while the other three recently graduated. Four are in the Computer Science field and took the lead in developing the platform, while Chand is into economics and deals with financial aspect and business plan.
Already, the social media page created for the platform has received hundreds of followers while potential donors, experts and organisations have indicated their interest in partnering.
CONNECTING DONORS AND DONEES
Instead of unrestricted donations, Unity.GY aims to confidentially connect those requesting assistance directly to the people who want to help. However, research will be conducted into the background, location, income, and interests of these individuals to determine the best matches between donors and donees.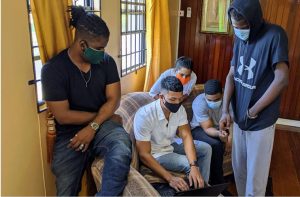 Garnett predicts that the way in which the platform is developed will allow even the average Guyanese to give of his time or talent. Meanwhile, through a referral system, connection swill be formed between experts and those in need of training or job opportunities. "The people who need help the most sometimes aren't the ones that actually go on the online platform and sign up. So, a big part of our thinking was to implement a referral system so that we could have people sign up on behalf of other people. We can partner with youth outreach organisations so that when they go into these areas like the hinterland where people don't have that much access, they can register or sign up on behalf these people that really need help," Garnett explained.
Unity.GY aims to create a ranked point system for donors to earn points and level-up for consistently contributing to the system. They will be rewarded through advertising.
Added to this, the data collected by the platform will be used to inform the government and non-governmental agencies on the needs of students in specific geographic areas. This data stands to further diminish the educational barriers in parts of the country.
Garnett said: "We're really excited about this. It's always been a goal that as we reach the end of graduation and we have all the skills that we feel could make it a success that we actually go into a venture like this. We have high hopes for it and we hope that it all works out and becomes something that really helps people in Guyana."