OUR lives sometimes go in a direction we did not plan but turns into a huge blessing. Having five books on Amazon was not a childhood dream and writing four of them in four months was certainly not something I told myself was possible for me. That is why Jeremiah 29:11 is one of my favourite bible verses: "For I know the plans I have for you," declares the Lord, "plans to prosper you and not to harm you, plans to give you hope and a future.  It reminds me that God had a plan for my life before I was born. Everyday something happens in my life to remind me that God is at the centre of it all. To think that God has written about on my life and it is a bestseller.I have a feeling I am only in Chapter One and it is already exciting. I am working on a few more that will be released from September, if God's willing. Before I get to September, I need to get through August which is my birth month. I do plan to celebrate every day in August in a special way by gifting one of my virtual programmes, books or outfits to some blessed people. This gesture is adding so much happiness to my life, because when individuals are contacted their reaction is priceless.
The climax of August will be a virtual Writer's Retreat with Claudia Vidal.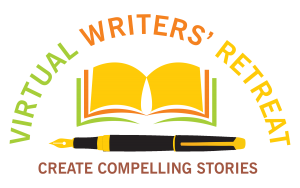 I met Claudia a few years ago while we were working on our first book and we instantly connected and we developed a strong and genuine friendship that we both treasure. She was one of the persons who read one of the excerpts when my books were launched at the Guyana Consulate in New York. We have been exploring ways to collaborate and during this season with the pandemic, we decided to collaborate on a Virtual Writer's Retreat. I think this pandemic has pushed us and provided innovative options to new collaborative ventures.
One of the objectives is to inspire and empower individuals to write compelling stories that impact the world.   The retreat will be for three days from the comfort of your home where you can learn how to write for impact.
Our three-day virtual retreat covers the "Create Compelling Stories" curriculum, broken into multiple sessions, and uses interactive videos to connect participants (in small groups) via virtual breakout rooms. We have conducted a couple previews and clarity and it was great to experience eagerness and excitement people display during that session I can relate to that feeling because I remembered my first session with Kathy Kidd. That evening I was lying on my bed thinking I will be writing my book to publish on Amazon! If I can do this anyone can and that made me even more excited, because of the thought of others writing their books and sharing their stories. One of the things I decided from the start is to be as authentic as possible in sharing my story and I am happy I did, because those made me connect with my audience.
Allow me to share a review from one of my readers:
"One of my favourite books written by Sonia Noel is titled, 'Living With Intention.' My main reason for loving this book is due to the fact that this book is part of my growth. And also it helped me to have a different mindset of who I really am as an individual. This simple and inspiring book was read by me over and over, and every time I read this book I see something motivational that I did not see or read before. This might sound funny, but it is the truth.
"The book Living With Intention is like a daily word for me. After reading my Bible and having my daily meditation, I found this book to be very motivating for me. I would either read a paragraph or a line that inspired me. This is a book that anyone who needs to borrow from me I would tell them to read it in my presence, no take away. Lol.
"Living With Intention tells one that you can become intentional and very confident of yourself. Nevertheless, I was prompted by the Seven Days Healthy Challenge to re-read this book again a Chapter a day, starting with Chapter One, which speaks about the subject "Grow." As I read, the word "GROW" registered to me and had me thinking, for we all know that the only way a plant can grow is that we have to water it daily or frequently. Or once a seed or a seedling is planted we have to nurture it so that it can grow and blossom into a beautiful plant. So, such is life; if we do not have light-minded or positive people around us who will water our thoughts and minds, then we will not "Grow."  An elated Sonia Noel stated in her closing chapter that she felt a sense of satisfaction that she was delighted to be part of a Movement birthed by her, Women Association of Sustainable Development (WASD). This is a movement that shows the word "Grow" in the true sense. So in my closing, I would like to emphasise on the word "Grow": grow in your businesses, grow in your circle, grow on your job, grow in your relationships and in every areas [sic] of your life." Grow"- Joan Jackie Butcher
I encourage you to join this retreat if you have the desire to write your book, because you will have the framework for your book at the end.
Our stories are not for us, but for those persons waiting to be inspired by your journey.
Email info@createcompellingstories.com if you are interested as we continue to celebrate this beautiful journey called life BEYOND THE RUNWAY.