… 19 take Oath of Office
PRESIDENT Irfaan Ali on Wednesday swore in a 19-member Cabinet comprising a mixture of youthful and well experienced individuals, who have all expressed that they are eager to bring about positive change in Guyana.
The swearing-in ceremony took place at the Arthur Chung Conference Centre (ACCC) and was attended by Prime Minister Mark Phillips; Vice-President Bharrat Jagdeo; Attorney General Anil Nandlall and Minister of Parliamentary Affairs and Governance, Gail Teixeira who had all been previously appointed.
In attendance too were former Prime Minister Samuel Hinds; Chief of Staff, Brigadier Patrick West; members of the diplomatic corps and families and friends of the newly appointed ministers.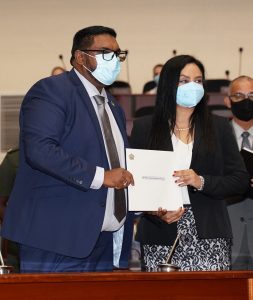 Appointed to the post of Minister of Health is Dr. Frank Anthony. Under the People's Progressive Party/Civic (PPP/C), he was the Minister of Culture, Youth and Sport from 2006 to 2015. As health minister he will now lead the fight against the dreaded COVID-19 pandemic, which has challenged Guyana with over 500 cases since March, 2020.
He has a Master's in Public Health from the Hebrew University in Jerusalem, Israel and Medical Degree from the Russian Friendship University in Moscow, Russia. Dr. Anthony served in various high-level positions previously in the Ministry of Health, including the post of Executive Director of the Health Sector Development Unit. His involvement in politics dates back to 1979, starting as a pioneer in the Progressive Organisation of Pioneers, and the Progressive Youth Organisation.
Reappointed as Minister of Education is Priya Manickchand. Manickchand is also an attorney-at-law and a former Minister of Human Services. She will now tackle Guyana's education system which, like most countries around the world, has been impacted by the COVID-19 pandemic. In her efforts moving forward, she plans to ensure that the safety of Guyana's children and educators is top priority.
Sworn in as Minister of Natural Resources was 40-year-old Vickram Bharrat, who formerly served as a parliamentarian under the PPP/C. He holds a Bachelor's Degree in Computer Science from the University of Guyana (UG) and is married with two children.
He once worked as a Technical Officer at the Ministry of Local Government and Ministry of Health and as a Project Manager with the United Nations Development Programme (UNDP).
Bharrat was also the Chairman of the Grove/Diamond Neighbourhood Democratic Council. He will now oversee the management of Guyana's multiple natural resources, such as gold and bauxite.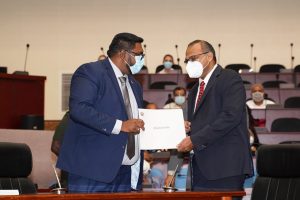 Medical doctor and humanitarian Dr. Vindhya Persaud has been appointed Minister of Human Services and Social Security. Dr. Persaud has been a medical doctor since 2001 and worked at the Georgetown Public Hospital and Mercy Hospital. She is known for her humanitarian, cultural and religious activities, serving as President of the Guyana Hindu Dharmic Sabha.
She comes from a long history of association with the PPP/C with her father, Pandit Reepu Daman Persaud, being Guyana's longest-serving parliamentarian.
Appointed Minister of Culture, Youth and Sport is Charles Ramson. He is 36 years old and recently graduated from the University of Aberdeen, Scotland, with a Master of Science Degree in Oil and Gas engineering. He had previously graduated with a Legal Education Certificate from the Hugh Wooding Law School, University of the West Indies (UWI), Trinidad and Tobago and LL.B (Hons.) Law from the University of Buckingham, Buckingham, England, United Kingdom (UK).
Meanwhile, former Junior Minister of Finance Bishop Juan Edghill has now been appointed Minister of Public Works. Edghill is also a former Chair of the Ethnic Relations Commission (ERC) and a former adviser to former President Jagdeo.
Former President of the Georgetown Chamber of Commerce & Industry (GCCI), Deodat Indar, was also sworn in on Monday as Minister within the Ministry of Public Works.
He completed his first degree at the University of Oxford Brookes in England and received his Bachelor's Degree honours. He has also completed his Certified General Accounting Exams of Canada, and received his Master of Business Administration Degree at the University of East London. He then proceeded to do the US (United States) Certified Internal Audit Exam.
He has also worked with the Inter-American Development Bank (IDB) through the Government of Guyana and served as Chairman of the Board of Governors at the Institute of Internal Auditors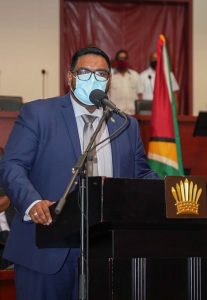 The PPP/C's former MP and Executive Secretary, Zulfikar Mustapha has been appointed the new Minister of Agriculture. He is 50 years old and is also the former Chairman of Region Six, (East Berbice-Corentyne), where he served for five years.
Mustapha has previously worked with the Guyana Agricultural and General Workers Union (GAWU) as Assistant General-Secretary and, over the years, has visited and interacted with farmers from across the country. He holds a Management Degree from the University of the West Indies and has been with the PPP/C from a youthful age as a member of the Progressive Youth Organisation.
The Minister of Local Government and Regional Development is Nigel Dharamlall. The 46-year-old previously served as an MP under the PPP/C. He also served as Permanent Secretary at the Ministries of Local Government and Amerindian Affairs; Chief Fisheries Officer and Chair of the Guyana Rice Development Board (GRDB).
Appointed Minister within the Ministry of Local Government and Regional Development is Anand Persaud, owner of National Television Network (NTN). He has been an active member of the PPP/C. Since his return to Guyana in the 1980s, he has been involved in communication and media, starting with the continuation of a legacy left by his grand-parents and older generation.
Meanwhile, University of Guyana lecturer Hugh Todd has been appointed Minister of Foreign Affairs and International Cooperation. Todd has published and presented at academic conferences in Guyana, within the Region and beyond. His strengths include new regionalism, small state issues, Latin American and Caribbean politics, strategic planning and policy formulation, international business and competitiveness and marketing strategy.
Appointed Minister of Home Affairs is Robeson Benn. He is the former Minister of Public Works; a former Commissioner of the Guyana Geology and Mines Commission (GGMC) and a former Commissioner of the Guyana Elections Commission (GECOM).
Colin Croal, a former Permanent Secretary in the Ministry of Amerindian Affairs, has been appointed Minister of Housing and Water. He is 41-years-old and possesses a Masters in Business Administration (MBA), majoring in International Business at University Malayu, Malaysia in 2007. His first degree was in Business Management at the University of Guyana in 2000. Croal has been with the PPP/C for over two decades. He has previously served as Permanent Secretary at the Ministry of Local Government and Regional Development, the Ministry of Amerindian Affairs and the Ministry of Legal Affairs.
In Parliament, he served as the Geographical Representative for Region One (Barima-Waini) and he also held parliamentary responsibility for Local Government and Housing and Water.
Working along with him as Minister within the Ministry of Housing and Water will be Susan Rodrigues. The 33-year-old mother of two is an entrepreneur, who is eager to make her mark in the political arena. She also has a Degree in Law from UG and a Masters in Business Administration.
Former PPP/C MP Joseph Hamilton has been appointed Minister of Labour. Hamilton is an Information Technology Specialist and Building Contractor. He was also a Good and Green Guyana (GGG) Councillor of the Georgetown Mayor and City Council from 1994-1997.
Additionally, he is a former People's National Congress/Reform (PNC/R) Region FourCouncillor; a former parliamentarian from 1998-2001 and a former Parliamentary Secretary in the Ministry of Health.
Reinstated as Minister of Amerindian Affairs is Pauline Campbell-Sukhai. She is an Economist and Amerindian and Women's affairs activist. Campbell-Sukhai has served in the National Assembly since 1992.
New Minister of the Public Service is 37-year-old Sonia Parag. She has been an attorney since 2007. In 2019, she began offering legal services at the Office of the Leader of the Opposition and eventually became a candidate for the party for the March elections.
Meanwhile, 40-year-old Kwame McCoy has been appointed Minister within the Office of the Prime Minister. McCoy started his career as a reporter with the Guyana Broadcasting Corporation and later served at the Ministry of Information and the Georgetown Public Hospital Corporation (GPHC).
He also worked as Head of the Press and Publicity Unit at the Office of the President during the Bharrat Jagdeo presidency. He is currently finalising his Masters in Political Marketing.
Oneidge Waldron, an attorney-at-law, has been appointed Minister of Tourism, Industry and Commerce. The 22-year-old has served as an adviser to former Minister of Telecommunications, Cathy Hughes and was a nominee of the then Opposition Leader Bharrat Jagdeo for the position of GECOM Chair.
Then 19 Cabinet ministers will now serve as the top leaders of the executive branch. They all took their individual Oaths of Office prior to being appointed.
In brief remarks to the gathering subsequently, President Ali reminded the ministers that they will be held accountable by the executive, Parliament and the people of the country.
He said that the job will require sacrifices, but he is certain that the team he has chosen will be up to the task. "I expect that this team will be results-oriented; that this team will work in an efficient and transparent manner. The multi-faceted nature of the skill sets that comprise the team is what I believe Guyana requires in ensuring we fulfil the aspirations of all the people of this country," he said.
The President hit home that 19 Cabinet ministers bring youthful energy, experience and the skillsets needed for electoral reform, security sector reform and the managing of the country's natural resources.
He stated: "You would see that we have private sector experience coming in to the government; legal experience; experience in working at various agencies of government; medical experience; educators. It is a multifaceted fusion of experience and skills set that we've brought together."
President Ali noted that additional important appointments will be made shortly, which will work to provide to Guyanese the best group of government ministers.