SEVEN persons have been left homeless after their Richmond Hill, Linden home was destroyed by fire on Saturday afternoon. 
The wooden one-storey house belonged to Kevon Lorrimer, a Regional Candidate for the APNU+AFC coalition.
Lorrimer told the Guyana Chronicle that he left home with his entire family at about 12:05hrs on Saturday and headed for the Square of the Revolution in Georgetown to take part in the Emancipation celebration there. He said that upon arriving at their destination, he checked his phone and noticed a message stating that his house was on fire.
"Right away my family and I left the Square of the Revolution and rushed back home," the 30-year-old said, adding: "When we arrived to the house, it was completely burnt already; the fire was out, and nobody was there anymore."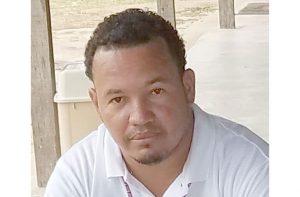 According to Commander of 'E' Division, Hugh Winter, the police received a call on Saturday at 13:00hrs saying that the Richmond Hill building was in flames. He said that the resident who reported the fire indicated that they'd heard an explosion and then noticed that the house was on fire.
The Guyana Fire Service and the Police are currently investigating the origin of the fire.
Meanwhile, Lorrimer, who is also an activist for the APNU+AFC coalition, stated that although the nature of the fire has not been confirmed as yet, he strongly believes that it was started by an arsonist.
"I've been very active on Facebook, showing support to Guyana's Former President, Mr. David Granger and the Coalition," he said. "I would also keep the public informed with the truth of politics and due to this I received several threats," he added.
"About three days ago," he recalled, "individuals were accusing me of filing criminal charges against the GECOM Chairman, and they said that they are fed-up talking, and they will act now. Also, the same day when the GECOM Chairman was slapped with criminal charges, a private number called me and it was a male. He said that he will put my house on fire," the activist noted.
Following the threats, Lorrimer made reports to the Criminal Investigation Department (CID).
Persons interested in supporting and giving contributions to the Lorrimer Family can call 592-611-0200.