AN invisible "scourge" in the form of the deadly Novel Coronavirus (COVID-19) has been etched into the social construct of Guyana, causing persons to be constrained and confined in more ways than one, but a freedom that it can't restrict is the freedom from bondage, which was achieved by freedom fighters, in 1838.
On August 1, 1838, descendants of Africans in Guyana regained their freedom after two centuries of enslavement. That freedom has never been undervalued or forsaken, and testimony to this is the annual celebration of this milestone.
Though this year was not as grand as previous years, Guyanese found innovative and subtle ways to celebrate and commemorate the sacrifices of the Africans who struggled, suffered and were slaughtered for the sake of the freedom enjoyed today.
The necessary COVID-19 control measures limited the celebration, but the Guyana Chronicle, during a drive around town, observed small groups of people gathered at public areas, such as the seawall and Square of the Revolution.
Other persons chose to celebrate with a good, old fashion "bottom-house" or "front yard" barbecue. "This is a time when we come and celebrate freedom, but due to the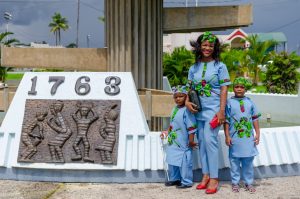 COVID-19, it is different… it is not what we're accustomed to… we are trying our best to cope with the situation and celebrate in whatever little way we can," said Royalty Sookram in an invited comment, on Saturday.
Sookram, who who was decked in her traditional African wear, was sharing a light moment with her family, at the Square of Revolution. This seemed to be the order of the day for a few persons, but it was, nonetheless, significant to them.
"Today is different, strange…I was coming to town and I saw the place 'dead'… it is really not what we are accustomed to… we are used to coming together as one people, one nation and one destiny to celebrate our freedom," said Sookram.
She recalled how Guyanese would gather in the National Park or on Main Street for the usual festivities, something, which she hopes will return soon.
"We have no choice though, we have to cope with the current situation… it, however, does not change anything…we have won freedom, and we have to remain resilient and keep the faith," said Sookram.
Her sentiments were echoed by other persons, who chose to celebrate the day with their close family or relatives.
Tamika Gibson-Sue, a mother of two, also tried to give her children a small "taste" of the yearly experience.
Together with her children, Gibson-Sue, decked in her traditional wear, visited the Square of the Revolution and other public places with her family.
She said it was her little way of celebrating the day and showing her children that all was not lost, despite the current situation.
"This is a time when we all celebrate and have African foods, share special moments and so on… and like every other holiday, it is not Afro-Guyanese who celebrate this day, but also the entire nation.
"With our culture and diversity, we would celebrate each and every festival…we do not do racism here, we take part in every culture," said Gibson-Sue.
As written in a past Guyana Chronicle Editorial, while Emancipation is an African Guyanese-grounded experience, it has had wider consequences. When African Guyanese won their freedom, they ensured that other Guyanese who arrived after emancipation could not come in chains. Emancipation freed all Guyanese from slavery.