By Michel Outridge
THIS week the Pepperpot Magazine journeyed to Clay Brick Road and its neighbouring village of Belle West, Canal Number Two Polder, West Bank Demerara.
Clay Brick Road is a one-street village which has 60 house lots and is home to the once-thriving Clay Brick Factory which is at the end of the street. The village got its name after this factory which functioned in the 1970s and provided employment for many villagers up until its closure.
Today, the place is in a state of deterioration, but the administrative building– which is still standing — is occupied by a single villager.
Clay Brick Road comprises Guyanese of all ethnicities, most of whom are farmers, self-employed folk and some private and public sector workers who leave the village for work.
At the start of the village, there is a wooden bridge which connects Canal Number Two Polder to Clay Brick Road and the large housing scheme of Belle West.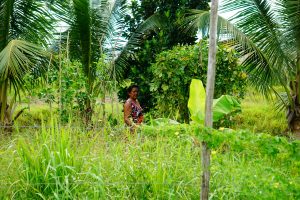 Clay Brick Road and Belle West villages are separated by a canal which runs through the communities and are joined by small bridges.
Clay Brick Road has an all-weather road, drainage and the basic infrastructure including electricity, potable water and internet services but is without landline phones.
At the head of the village stands the one-flat concrete building which houses the New Annlegt Nursery School.
The people of Clay Brick Road are very friendly and welcoming and are mostly cash crop farmers, who cultivate the land within the community to earn.
It is also home to teachers, health care employees, accountants, cane cutters and others.
Clay Brick Road has a population of about 500 residents.
Meanwhile, Belle West Village has 708 house lots with about 65 per cent occupancy and a large number of residents who were previously employed by the Wales Sugar Estate up until its closure.
The community has many internal streets and a lot of businesses both small and large-scale with masjids, churches, mandirs and other impressive buildings.
It has schools, a health centre and a playschool/aftercare facility which is privately owned.
The people are of mixed races who co-exist in peace and harmony and they also grow their own fruits and vegetables.
Residents are kind and friendly and are always up for a quick conversation.
Canal Number One and Two Polder Water Users Association
The Pepperpot Magazine met the mild-mannered overseer of Canals Number One and Two Polder Water Users Association, Naushad Boodhoo.
He is also the Imam of Belle West Masjid and the Coordinator of Boodhoo's Play School.
In highlighting the role of the Water Users Association, Boodhoo said the outfit is like a 'little brother' to the National Drainage and Irrigation Authority (NDIA) which comes under the Ministry of Agriculture.
He related that the Water Users Association is responsible for the drainage and irrigation, fixes of sluices, shaping of dams, removal of over-hangings (trees) and the general maintenance of drains and canals.
Boodhoo added that the Water Users Association is managed by seven board members which include farmers and residents of the community.
"We collect drainage rates similar to the Neighbourhood Democratic Council [NDC] and it is about 20 per cent which varies from proprietor to proprietor.
The Water Users Association have their own heavy equipment to do the tasks they are responsible for within the communities," he said.
Boodhoo reported that due to recent heavy rainfall they had to undergo emergency works where they had overtopping of 100 rod- that is, 150 feet of breach.
He disclosed that emergency works had to be done because the entire dam would have been washed away causing flooding.
"The soil structure is pagasse instead of clay so it was prone to collapse and we had to fix that," he said.
Boodhoo explained that a lot of people and children have been at home for weeks and it is beginning to take a toll on them psychologically since there is a need to socialise.
But on another note, the pandemic has caused families to re-connect where there is more time for family with fewer distractions and they have become a priority.