– arson suspected
POLICE and fire investigators are currently examining circumstances surrounding the burning of the Guyana Elections Commission's (GECOM) Wismar, Linden branch which occurred early Tuesday morning.
According to police report, investigations revealed that the suspected arson occurred around 1:55 hours.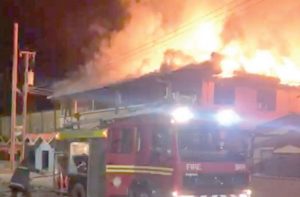 At that time, the two-storey, concreate building located at Burnham Drive, Wismar, Linden, was being guarded by a 54-year-old female guard who told investigators that she initially heard sounds coming from the back of the building.
In the process of going to the back of the building, the guard said that she then heard glass breaking and what sounded like an explosion. The guard subsequently observed the top floor of the building in flames. She then observed two males running west into 'First Alley.'
The fire service and police were immediately contacted.
According to the Chief Fire Officer, Marlon Gentle, fire fighters immediately responded to the call, however, when they arrived, the top floor of the building was fully engulfed in flames. Nevertheless, they were able to extinguish the fire before it could have spread to nearby buildings.
Investigations are ongoing.
The building was rented by GECOM and hosted one of GECOM's two offices in Linden. The second branch is situated on the Mackenzie shore of the town, and is currently being guarded by police officers.