THE recent coming out of victims who suffered traumatic experiences at the hands of Kaieteur News' co-editor, Ruel Johnson, and the lack of resolution have triggered a large section of society to call for justice and better treatment to issues of sexual and domestic violence.
Among the many reputable women who have spoken on the issue are current First Lady of Guyana Sandra Granger. Granger said that the exposure of Johnson, who is a person in a position of authority, has revealed that Guyana has a far way to go in dealing with this issue.
"The young lady who related her experience(s) at the hands of the abuser has been criticised and reviled in the crudest way. Another victim has stepped forward. Those who are aware would know that victims of trauma sometimes take years to express their pain and anguish, or internalise their abuse, and sometimes blame themselves for it. Where are we as a nation when for some, the instinctive response is to attack the person(s) making these allegations? Worse, implying that she/they are less; that she/they 'looked for it'? Let us get to the bottom of this matter and listen to both sides. We need a group of dedicated professionals who will help our abused and battered victims to heal. At the same time, the perpetrators should be brought to justice and also counselled about the damage they have done. Just my two cents," The First lady said.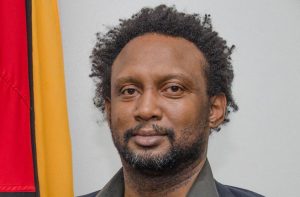 On Monday, Youth Activist and Columnist at the Stabroek News Akola Thompson broke her silence against Johnson by way of a Facebook post. Following her post, a German ex-girlfriend, Sinah Kloss, also came forward and shared with the public her years of abuse with Johnson.
Thompson said because she was a child raised on trauma, she was more susceptible to Johnson's acts. "He would begin inviting me over to him for our writing sessions, all pretense of the writing mentor falling away to reveal its true ugly nature. He would ply me with alcohol…"
She said that Johnson was both in awe and envious of her talent, intelligence, and desirability. "He was intensely paranoid and possessive; he would try to pressure me to marry him, to have a baby for him, to promise to stay with him forever. He was verbally, emotionally and mentally abusive to me throughout. He would stalk me. He would show up to my home uninvited.
He would constantly go through my emails and social media. He would send nasty messages to my friends and try to isolate me from everyone. These are all tactics of abusive and narcissistic psychopaths. He would frequently wake me out of my sleep to question me about another one of his paranoid delusions concerning me. He would shout, curse. He would punch walls, slam tables, and use his bodyweight and size to intimidate me into small corners of myself… One night, on another one of his drunken paranoid benders, he got physical with me. He would lift me up and literally throw me out of his apartment. I knew then I had to leave, because things were on a continuous downward slope."
Meanwhile, Kloss said, "I was his girlfriend for two years. I believe every word Akola has written. Although I was far from being a minor, he managed to manipulate me, and slowly decreased my self-esteem, as is common in histories of domestic violence, and is a common strategy of people who have a narcissistic personality disorder. I was suffering from a burn-out due to a stressful finishing phase of my PhD dissertation, a phase in which I was completely let down by him, the details of which shall not be discussed here on Facebook. Also, my father was dying of cancer, adding to my stress and depression. He used this moment of vulnerability to exert power, control me, abuse me verbally, and make himself feel in charge, spit at me. I was called a 'miserable c…t' so many times that in the end, it didn't even hurt anymore," Kloss posted on her page.