SEVERAL roofs were damaged while at least one house in Berbice is said to have collapsed, due to high winds and heavy rainfall that swept across Guyana's coast on Wednesday morning.
Notwithstanding damage to the property, no one is said to have been injured as result of the storm, which started at 03:00hrs and lasted for approximately three hours.
"The high winds would've caused many houses to have some zinc lifts, which they would've repaired almost instantaneously, but we have a few instances where there were major damage," reported Civil Defence Commission (CDC) Senior Response Officer, Salim October.
He further added that: "In Region Four there was a house in Lamaha Park and one in Vryheid's Lust that had severe damage to the roof, where zinc sheets were blown off. At Westbury, Essequibo Coast there was one house that had similar damage, at Success, East Coast we also had that. Another one at Line Dam, Queenstown Essequibo. We, at section B No. 67 village East Corentyne Berbice, had a collapsed house. Those were the most extensive damage recorded up to this point."
There was also some amount of damage to public infrastructure, with the commentator's booth at Uitvlugt Community Centre Ground having collapsed, while live wires burst from main poles to private homes at De Groute, West Bank Demerara.
October explained that the strong winds mainly affected Regions One, Two, Three, Four, Five and Six, with some amount of strong winds also having been reported in Region 10.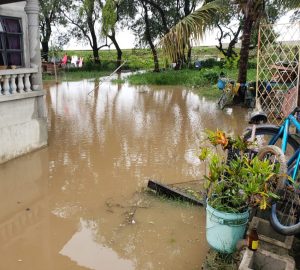 The CDC through the National Emergency Monitoring Systems (NEMS) has since deployed two damage assessment teams, while also working along with other Regional Disaster Response Management Services (RDRMS) to evaluate the extent of the damage in regions where teams were not sent.
"The assessment is a two-part assessment. Based on the hot spots we would've deployed two teams. One to the lower East Coast and Georgetown and other between Vreed-en-Hoop and Parika; and we're utilitising contacts in all 10 administrative regions, working through the RDCs, municipalities and NDCs to receive reports which we would validate after," explained CDC Response Officer, Salim October.
Though there was some amount of flooding, there were minor damage as result of the flooding, with majority of the damage being as result of the strong winds.
"With the flooding there was no real damage; the most severe impact in Bartica and that was really one home and yard that was flooded. There is Wax Creek, an Indigenous community, that has been having flooding but that is not as a result of this incident," October said.
A statement from the CDC further explained that: "Several yards were flooded but it was observed that the waters were quickly receding with no significant damage reported. Bartica in Cuyuni Mazaruni has reported severe flooding and the RDRMS will continue to monitor activities in the regions with support from CDC."