THE founder and Chief Executive Officer of A to B Delivery Inc, who was recently robbed and beaten by a gang of armed bandits in South Ruimveldt Park was on Sunday morning the recipient of a tremendous outpouring of love and support from well-wishers.
One of those well-wishers was the management of Sheriff Security Services, which opted to donate to the young entrepreneur, Damion Vantull, a brand-new motorcycle after his was stolen during the robbery.
"As we continue to support each other through these uncertain times, the company will take the initiative to lend a helping hand to this young man by donating a brand new motorcycle to him," the security firm said in a statement.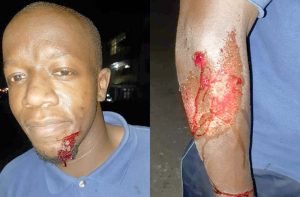 During the ordeal, which reportedly occurred on Saturday, Vantull sustained a deep wound in the face, and several other superficial bruises about the body. He told the Guyana Chronicle that he was pushed of his motorcycle by one bandit, while another attacked him with a knife. The incident was subsequently reported to the Ruimveldt Police Station.
A similar incident occurred on Friday morning in the said South Ruimveldt Park when an employee of Xpress Delivery was robbed of his motorcycle and other valuables.
The delivery man was seen on a surveillance camera in a scuffle with one of the bandits after refusing to give up his valuables. The bandits were armed with a gun and knife.