RECENTLY, I have been re-reading Tennessee Williams' classic play, "A Streetcar Named Desire," and I have been wondering about the elements that contribute to the world viewing Tennessee Williams as a gay icon – about what specific criteria needs to be in place before someone can be considered a gay icon.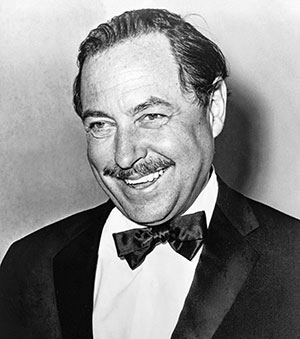 A gay icon, for people who may not know, is someone who occupies a place of adoration and respect within the LGBTQIA+ community. Examples of gay icons from real life include Judy Garland, Rock Hudson, Sylvia Plath, Eartha Kitt, Leslie Cheung, RuPaul, Lady Gaga, and many, many others.
Although gay icon is a status that is primarily awarded to real-life individuals, there are fictional characters who have been given the title as well. For example, Miranda Priestly, Meryl Streep's character in "The Devil Wears Prada" is an example of a gay icon, as is Dorian Gray from "The Picture of Dorian Gray," the Babadook monster from the film of the same name, Mrs. Dalloway and Orlando from the Virginia Woolf novels, and Harley Quinn from the DC comics.
Certainly, with real personas, being gay is not the singular criterion to be considered when it comes to the creation of gay icons, as there are several heterosexual people who have been placed in the category.
I do believe that gay icons are made when LGBTQIA+ persons are able to see aspects of their identities represented in celebrities, and this visibility leads to a heightened level of adoration and respect for those individuals who highlight these aspects while in the limelight. It might be an actress's outlandish costumes that references some aspect of drag culture; or it might be a singer who has songs about forbidden love; or it might be the story of a socialite who escaped oppression to create the life that she wants for herself.
Whatever the reason, the status of a gay icon is built on bringing some visibility to the LGBTQIA+ community through some connection/similarity that exists between the people who exist in these marginalised communities and the people who have transcended into superstardom. Additionally, these elements of the LGBTQIA+ community need to be represented in the work that the gay icon has received popularity or acclaim for, such as films, fashion, cartoons, novels, poems, songs, etc.
So, with all of this in mind, what can we glean from Tennessee Williams's most famous work, "A Streetcar Named Desire," that emphasises homosexual themes and therefore expresses the idea of LGBTQIA+ elements being present in the work of the artist who is to be considered a gay icon? I think that such elements can be found represented in Williams's several of the main characters in the play, especially Blanche Dubois.
At the beginning of the play, Blanche emerges on to the scene in New Orleans, looking for her sister. She comes from wealthy beginnings, but all the money has been lost through the years, and she is now impoverished and homeless. Blanche spends most of the play looking for ways to make it back to her comfortable beginnings, mostly by trying to secure men who will be able to provide for her. This element of her characterisation is one of the factors that might make her a sympathetic character, especially to gay people, since homophobia itself is often wound up with capitalism.
There are many instances of gay people being fired from their jobs or being refused positions of employment because of their sexuality. There have also been many, many instances of LGBTQIA+ persons being disowned or removed from their homes and families on account of their sexuality. Blanche losing everything she once knew and valued and being tossed into a harsh world without the means to take care of herself is a reality experienced by most gay people, and her longing for comfort and security is only that continues to plague them, particularly those in conservative and third world countries, even all the way to the end of their lives.
Another factor that emphasises the similarities between Blanche and the gay community to which Tennessee Williams belonged, has to do with her vanity and her reliance on her beauty and clothing, and her fear of aging and losing her good looks. Even though she has fallen far from her original station in her life, Blanche remains focused on material and superficial things, specifically her looks and appearance, as these are the only elements that Blanche believes she can use to win attention. Furthermore, her wearing the clothes she wore in her younger days also enhances the illusion that she might be able to one day return to that time in her life, when she was young and wealthy.
Clothing and make-up are important items in the LGBTQIA+ community, particularly in the ways that they can be used to express identities or create illusions for the purpose of creating a sense of security and comfort within the individual. In the drag community, for example, men rely on extravagant costumes and make-up as part of female impersonation, which is an avenue that allows them to showcase their talent and creativity while also helping their self-esteem and confidence. Clothing and make-up are also important elements in the lives of trans-people, especially transwomen, many of whom have utilized clothing and make-up as a means with which to fully express who they truly are.
Throughout the entire play, Blanche searches for love. She was once married, but her husband kills himself after Blanche sees him with his male lover. She becomes distraught after his death, and it can be argued that Blanche's fall begins after her husband dies. That is the moment when she, devoid of love and protection, begins the downward spiral that is seen in the play. She becomes an alcoholic and is fired from her job, yet she does not lose sight of the fact that she needs, yearns for, love and respect. Being denied love is something that many LGBTQIA+ persons must contend with.
From parents who choose not to love them, to straight people who are often unable to love them, to divisions in the community itself, there has always been a difficulty in the lives of LGBTQIA+ people when it comes to finding love. Blanche represents this in her deep craving to be loved and her inability to balance this need with all of the other things that she has going on in her life.
I do think that it is possible that many aspects of the gay experience, probably based on the author's own experiences and understanding of the LGBTQIA+ community, have made their way into the play, particularly through the character of Blanche, and this ability to represent elements of the LGBTQIA+ community in a work of literature is definitely one of the factors that contributes to making Tennessee Williams a gay icon.
Of course, it is important to view the entirety of the character's arc in the play while highlighting this comparison, and while it is true that Blanche does not get a hopeful ending, it is important to remember that people in the LGBTQIA+ community did not often get happy endings in the 1940s (the play was first staged in 1947).
There is no doubt that Blanche's life would have been markedly different were she a woman of the 21st Century, in much the same way that things would have been different for Tennessee Williams had he lived in the 21st Century.