ANIME is a specific kind of Japanese animation that has been around and has been exponentially growing in popularity, for a very long time. Many teenagers and young people today are responsible for the growth and consistency in the prevalence of anime in pop culture, but the fan base is made up of older viewers as well.
Even in Guyana, anime has a strong following, as there is a committed body of people who watch anime, as well as read manga (the Japanese comics on which the anime are based). The references can be found both on social media and in any random high school in the country, probably.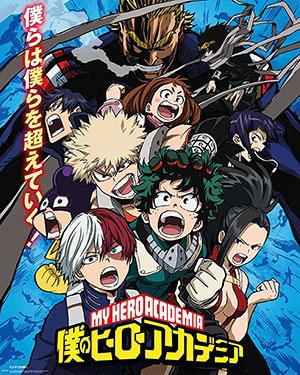 I can recall that when I was in high school, I was obsessed with "Avatar: The Last Airbender" (even though this is technically not an anime, since it is not Japanese), and that was the reason one of my very close friends introduced me to anime that she thought I would like.
The first one that I watched was "Bleach," which focused on a young man who is given special powers and allowed to be a Soul Reaper in order to defend the world against spirits, and the second anime was "Attack on Titan," which was about an elite squad of people who have been trained to fight the giant monsters that live outside the city walls. Both of these were very good, but, for whatever reason (probably the fact that I had to study for my CSEC exams), I stopped watching anime.
Therefore, I find it rather interesting that I should make my way to anime again, 10 years after graduating from high school, through a conversation that I had with a batch of students who are currently in high school. It is a strange, full-circle moment, that, to me, emphasises three things: 1) that pop culture will remain relevant to each new generation, 2) that young people will always be at the forefront of whatever is current and trending in art and media, and 3) that anime is undoubtedly here to stay.
The students recommended that I watch a critically acclaimed anime, "My Hero Academia" and of course there was a part of me that was initially skeptical. I asked myself, "Why would any adult with a life and responsibilities allocate time for a cartoon?" But with coronavirus shutting down most sources of entertainment and social gatherings, I had very little to lose, so I shut down Netflix, dropped the book I was reading, and began watching "My Hero Academia" in Japanese with subtitles, and, honestly, after watching the entire series, I feel like my life has been changed, my mind has been blown, and my heart has exploded due to the sheer unbridled amazingness that is this anime.
"My Hero Academia" alone has been enough to remind me about how animation can be used to trigger emotional responses, even when there is the distancing of the audience through the use of animation itself, as opposed to a situation like live-action where at least the audience can see 'real' people and elements on the screen. I suppose this makes anime a particularly difficult craft, where the animation (whether hand-drawn or computer-animated) is super important, but so is the writing aspect — the captions and dialogue — that serve to push the narrative along, while emphasising that emotional core.
"My Hero Academia," is certainly an emotional juggernaut with fantastic action scenes that are accentuated rather than hindered by its animation. The story is set in a world where over 80 percent of the human population are born with 'quirks' or special abilities. Several of these people undergo training and then eventually become superheroes, using their quirks to fend off villains who create havoc in society. The anime focuses on a teenager named Midoriya who is born without a quirk but yearns to become a great superhero. He is given his chance one day when his favourite superhero reveals that he has a quirk that can be passed from one generation to the next and, of course, Midoriya, bullied all his life for being quirkless, is finally given his chance to become a hero with superpowers.
The beautifully rendered action sequences (being a show about superheroes, after all) might be the initial draw for everyone who sets out to watch this anime, but in the end, everyone stays for the complex characters and the emotional storylines. The world of "My Hero Academia" is one in which the villain can have motivations that are almost strong enough to win you over, one where the hero's successes are juxtaposed with an equal amount of failure and uncertainty, one where the best intentions don't always lead to a happy ending. It is a place filled with entertaining and outlandish superhero abilities, from a girl who can shoot acid from her hands, to a villain who can steal quirks and give them to other people.
There is a hero who can turn into a dragon and one who has all of the abilities that a frog has. There are common superhero powers, such as levitation and the ability to generate fire, but there are newer, and sometimes funnier, powers too, such as the ability to absorb blows and bullets or the ability to engorge one's fist. The whole thing makes me feel as though I'm in high school again, but the stakes always seem higher in this anime and it certainly made me cry a whole lot more than "Bleach" or "Attack on Titan" ever did. Maybe this is only natural, as the challenges facing the youth of today have only increased since I was their age. It makes sense that the content deals with heavier themes and is laced with more emotions.
In the end, I have found my way back to anime again and I could not be happier. I have a long list of them that I plan to get to during the summer. There are the mainstream ones, like "Naruto," "Cowboy Bebop" and "One Piece" that I may get to eventually, but first, I plan to watch the ones that seem to be closer to what I am into, such as "Demon Slayer," "Anohana," "Assassination Classroom," "Yuri on Ice," and "Kakushigoto."