GUYANA hitting triple digits in Covid-19 cases and the recounting of our votes from the national elections are two important topics that are currently being widely discussed. Do you know what's also important though? Our loved ones; our families. These topics are being discussed daily and sometimes seeing these recurring headlines can make us feel very overwhelmed. Hence, this week I am going to take a step back to focus on that social construct we normally call "family."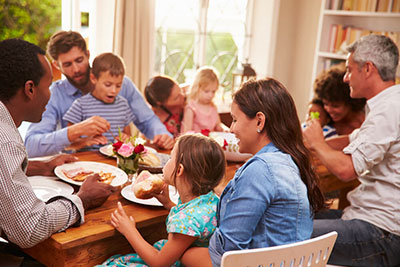 The family is the oldest known social institution in society. It has been the backbone of socialisation, reproduction and morality since the beginning of civilisation. Personally, my family has been my source of strength. The bond and relationships I have with my immediate family are like no other and a big part of my identity is because of them. On the same note, I have made friendships and bonds that are just as similar or even more impactful. I asked a friend of mine to describe what she believes family to be. She said: "They serve as one's greatest asset or the most traumatic experiences." Her words completely changed my outlook on family and who they are.
Family in a sense should extend from blood and transcend to relationships, bonds and friendships. While we cannot choose our blood-related families, we should at least be able to choose who we'd like to be around us/close to us. Families come in many different forms and I believe that individuals should be able to define their family and family type. The traditional outlook of a family is the typical nuclear family; mother, father and child/children or extended family. Some persons were even taught that this is the ideal example of what a family should look like; I choose to differ.
Today, across the world, that traditional outlook of the family is changing. From LGBTQ+ families to single-fathered households, to even 'friendship' households. Family is also extending from households to bonds and relationships made. I labelled my close friends as my sisters because that is exactly the bond I share with each of them. At the end of the day, I am beginning to choose my circles, my cliques, my support system; my family. I am also learning to sever ties with persons (even my own blood-related family) if I feel their influence or energy is a negative one for me.
During this pandemic, we are all stuck in our houses with those we live with. Some might not be as fortunate as others to be living with persons who refuse to love, adore and would even abuse them. If you're in that situation, I urge you to contact a health or social worker nearest to you as soon as possible for assistance. These times are already difficult; you do need family members to add and increase to the levels of difficulties.
We ought to break down and learn new, healthy ideas of families and relationships. We should not always teach our children that blood relations are the safest relationships. Of course, our blood families often make us feel safe, loved and we identify the most with them through culture and even physicality. But if you've read my column piece last week, you'd see that #SelfCare is even more important; YOU should come first.
Being born into a specified way of self-expression, thought processes and traditions should not constrict you into the identity your blood family already has. You should be able to transcend through the bloodlines. You should be able to build your idea of family. You should be able to be you. Especially, if your relatives are toxic and unhealthy for your personal growth, in your own opinions. Sometimes, just sometimes, blood isn't always thicker than water. With that said, I do hope you choose the family that you think is best for you.