Despite the holder of a Bachelor's Degree in Sociology, Keziah Williams is a passionate beautician, staying true to her calling.
After working several jobs before the completion of her degree, Williams said that doing hair was always what she gravitated to.
And even after completing her degree, because of her love and passion for the beauty world, every other job will come second/part-time to her hair business.
The 26-year-old Guyanese beauty said that she has aspirations of becoming a beauty influencer, specifically for natural hair.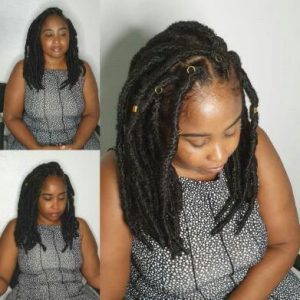 "I've worked several jobs for different people and as such, I felt I wasn't getting enough for what I loved doing. I realised there was a need for someone dealing with natural hair because there are so many persons with relaxed hair. I believe black women are naturally beautiful and they don't need to chemically relax their hair to seem "neat" by societal standards," the young woman said.
As such, she opened her own salon 'Kez Beauty Studio' on Quamina Street to cater to all the needs of natural hair persons.
"I aspire to be a beauty influencer and to change the norm of what beauty is for naturals in Guyana and if possible the rest of the world. I believe I'm the first natural hair salon in Guyana and I'm grateful to be a part of a growing community," Williams said.
Even though her primary interest is natural hair, Williams also specialises in other hair needs such as wig installation and more. She also has the artistic hands to do makeup for every occasion.
Because of her versatility and commitment to what she does, she has speedily established a budding small business.
In her advice to persons interested in becoming entrepreneurs, she says, "The first step is to start with an idea and don't be discouraged when you fail the first time trying it out. We are all beautiful in our own way."