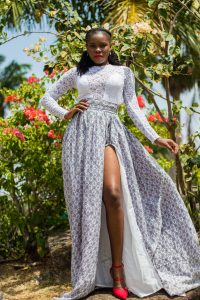 MARKING another development in his designing career, West Bank Demerara model and designer, Colvin Andrews, has launched a new collection of black and white print, under his "Vins Fashion" clothing line.
Featuring some 10 pieces that includes men and women's wear, this is Andrew's second line in the collection, which caters to clothing for all occasions, from party, to work, to formal evening wear.
While the last collection focused on elegant wear featuring African print, this time around Andrews placed more focus on cocktail dresses and some statement-making men's shirt.
"The thing that inspired me to do this clothing line is my strength or I should say my abilities. It's a combination of black and white pieces that also speaks to strength and purity," Andrews said, describing the collection.
It was after he finished second place in the "Designers" category at the African Cultural Development Association (ACDA) Centre Stage creative competition, that Andrews was inspired to start his "Vins Fashion" clothing line.
Designing since he was 13 years old, 28-year-old Andrews has been slowly building his brand over the years, with his pieces showing up at several small-time cultural pageants and fashion shows. The pageants being where it all got started for him.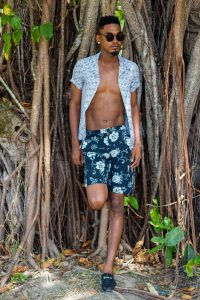 "As a young boy growing up I liked draw clothing out and trying to put it together. The girls started to ask me to sketch out evening gowns for them and that is how it all begins. I started by helping out the girls with ideas for the pageant and designs," Andrews shared.
In 2005 Andrews, who is also an event planner, got involved with a youth group in his community, the Good Intent Youth Movement that would take part in the country's annual Emancipation celebration and fashion shows.
"I would always be lucky to be placed in the fashion show segment or pageant segment," Andrews related.
This led to Andrews designing for his first pageant, a small village Emancipation Pageant.
His designs have since been featured by delegates in the Miss Emancipation West Bank Pageant, from 2010 to 2017; while pieces were also donned by delegates in the Miss Culture West Bank in 2018 and 2019.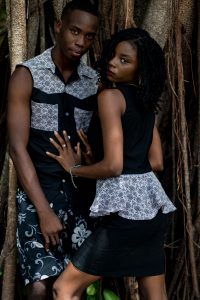 His pieces have graced the runway of the "Welcome to Africa Fashion Show"; Breast Cancer awareness fashion shows in 2018 and 2019; and he also displayed a few pieces at the recent "Fashion Fiesta" show at the Youth Village that was part of the Golden Jubilee Mashramani celebration.
Now Andrews is focused on building his brand, and like many local designers, is looking forward to seeing his pieces displayed even at the international stage.