By Michel Outridge
SARIKA Samaroo is a farmer and has been living in Ruby Backdam for eight years, a place that has become her home, over time.
The mother of three has settled with her family and together they have a thriving farming business of potatoes, cabbage, cassava and tomatoes.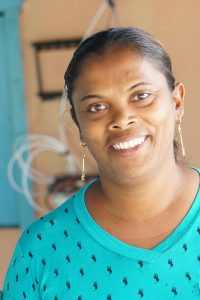 She reported that depending on the 'road' price at the market they would make a profit but often wholesale buyers would only want to offer a mere $15 per pound for cassava and it is not a very profitable gain.
Being a farmer's wife is no 'walk in the park' it is hard work and constant labour to tend to crops and after reaping, the other task is to sell the produce.
"We depend on farming to provide for us and even though sometimes things don't always go your way, we still try," she said.
The Samaroos have a few acres of farmland in Ruby Backdam and they collectively work on it to get a good harvest.
She related that once they have a good crop they would make their way to Parika Market on Sundays to sell via their canter truck.
Samaroo told the team that she is used to the farming life which is not glamorous but rewarding and she likes the eerie quiet of the place.
She stated that she came to Ruby when she got married and stepped in to assist her partner in farming.
Apart from farming they rear a few sheep and some chickens for home use only.
"This place nice to live and it is a place of farmers, hardworking people and we have no real problems here because people live far off from each other and we have a lot to do so there isn't time for idle behaviour," she explained.
The team also met Elvis Charles, a friendly man, who was tending to his farm single-handedly planting some 'baby' calaloo plants into the soil, he had already prepared.
The 38-year-old has several acres of pak choy, ochro, calaloo and bora and was also ensuring his plants are watered since the dry season is upon us and the drainage canal is almost dried up so he was sourcing water from another canal.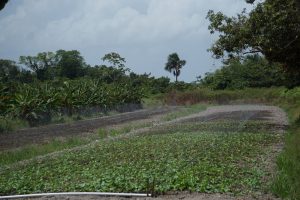 Charles' farm is located almost at the end of the village but he wasn't afraid since nothing much happens in the village. He feels safe among his fellow farmers, he said.
"In this village from young to old does farming, it was handed down from generation to generation and most of us have been doing this since boyhood days so we are comfortable with our life here," he said.
Charles is originally from Hague Village but came to live in Ruby Backdam eight years ago through marriage.
"Today, I have to put down 3,000 calaloo plants so I have a big task ahead and I must finish before sundown or if not I have to start early in the morning the next day. You have to like being a farmer to do this job or it will be difficult for you to cope," he said.