OVER the past few weeks, local creole rock musician Gavin Mendonca has been on tour in New York City, performing at open mic nights and representing Guyana for the first time at 'Folk Alliance International' (FAI) and at Full Sail University in Orlando.
FAI is an organisation that puts on an annual summit for folk musicians and festivals around the world, and this year, during the 32nd edition of the conference in New Orleans (Bulbancha), Gavin represented his home country for the very first time on behalf of the Rupununi Music and Arts Festival.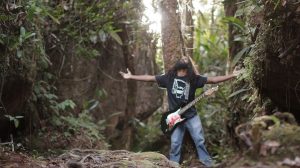 "I met with folk musicians from all over the world – from the US, Canada, Colombia, Australia, Ireland…all over! They all want to come to Guyana to share their music and culture and I have been able to create a bridge between these musicians and Guyana for the very first time," Gavin said.
He wants to create opportunities for other young people like himself to gain exposure to international stages.
At FAI, there was also the 2nd annual International Indigenous Music Summit which allowed Indigenous Musicians and Activists to gather together to discuss Industry, Challenges, Solutions and Resolve.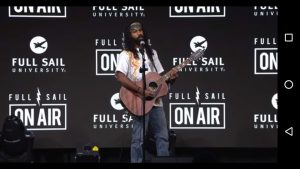 "It was an amazing experience to be a part of. Recently I've been working with the Indigenous Languages of Guyana in my work. Participating in this gave me a greater appreciation for our Indigenous Peoples and Cultures. My aim is to put together a Guyanese Contingent and participate next year…even put on a showcase with SherryAnna Balkaran, who has a beautiful voice and sings in Patamona. Guys like Michael McGarrell who's doing a lot of work for Indigenous rights, Andrew Campbell and his work with Organic Food, and Nigel Butler and his Art. Our voices need to be heard and this is the platform for it."
Last Jan 29, Gavin performed at a student social at Full Sail University in Orlando and described his experience as a spectacular one.
Last year Gavin released his debut Folk album with his partner 'Chucky'. "This is a project I'm working on to record and preserve 100 of our folk songs in a series of albums. Our first single 'Gangamani' was released on Christmas Eve and featured local rapper 'A-TayJah' who has invented her own style of Rapping from a Guyanese perspective."