– A brief look at the importance of the 'Medex' in Guyana
FOR over 40 years, the medex programme has been contributing significantly to ensuring public healthcare is delivered optimally in Guyana.
These health professionals are governed by the Medex Act of 1978 which was set up after the founder of an international Medex Programme, Dick Smith, approached the Government of Guyana. He offered to facilitate the training of local mid-level health care practitioners to service the citizens living in remote areas of the country and the programme was born.
To date, 75 registered medexes are working in the public healthcare system with the majority stationed in the hinterland regions due to the nature of the service they provide. They are trained to deliver services at health centres in communities by taking on some of the responsibilities of doctors.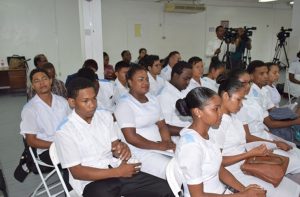 Speaking to DPI, Chief Medex of the Ministry of Public Health, Lolita Rebeiro, disclosed that she has served in the health sector for 20 years. Starting as a Registered Nurse in 2000, she then worked as a medex from 2006 onwards. She was appointed Chief Medex in January 2016.
Hailing from Moruca (Barima-Waini), Rebeiro noted the importance of her role especially going to the far-flung communities on medical outreaches. "Medexes are mid-level managers. At present, they are responsible for the maternal and child health aspect of health care in their respective regions or sub-districts. In some areas, they are also responsible for chronic Non-Communicable Disease clinics especially where there is no doctor."
According to Rebeiro, of the 75 registered medexes, 56 work in the clinical setting throughout the 10 administrative regions while 15 are in teaching, administrative or supervisory positions. The Chief Medex said there is a need for at least 73 more medexes in the public health system to provide adequate health coverage. She explained that currently, 34 are already undergoing a four-year-training programme, which will guarantee them each an Associates of Sciences Degree upon successful completion in 2022. (DPI)