SEVERAL persons were left homeless after a fire destroyed their Great Diamond apartment during the night of January 10, 2020. According to the owner of the building, Sherry Rahim, the occupants of the back end on the bottom flat of her house of the two apartments, lost all of their belongings in the fire.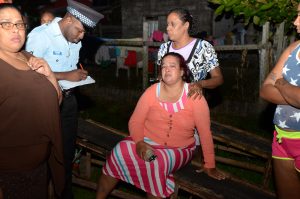 Rahim told the Guyana Chronicle that the apartment is home to four persons, two of whom are currently in the interior. She stated that one of the remaining two occupants was upstairs with her at the time they became aware of the fire.
"Yes I was at home when the fire started and that was around eight thirty quarter to nine (PM), the fire started from the back apartment downstairs but we aren't sure exactly where, after we saw the smoke and so on we exited the house 'cause we weren't sure which part of the house it was coming from." Rahim explained.
Rahim further explained that the upper flat of the house only received minor damage to the floor and the walls. She said that the persons who occupy the front apartment were able to salvage most of their stuff; however their apartment was damaged severely.