Retired Staff Sergeant brings cheer to veterans
By Wendella Davidson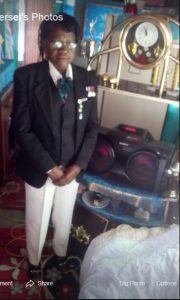 BEVERLY Somerset is a retired Staff Sergeant of the Guyana Defence Force (GDF). She currently functions as the Veterans Welfare Officer, a job that is dear to her heart, as it involves helping out her former colleagues, especially those who are physically challenged.
Somerset is a reliable "go-to" if you need information about any army veteran. She knows where they live, who are their relatives, their respective ages, their records of tenure in the army and the ailments from which each suffers, as well as ensure that they receive whatever financial assistance they are entitled to from the army. "I go and visit them and carry hampers for them monthly…we get supplies from Food For The Poor and other veterans living abroad to sustain the programme," she said.
In addition, Somerset says that she ensures that whatever functions the GDF has, the veterans are "kept in the loop" and arranges transportation to shuttle them to and from the venue.
One of her most treasured events that she and the other veterans look forward to, is the annual luncheon hosted by the Roraima Group of Companies at its Duke Lodge, Kingston, location.
Speaking with the Pepperpot Magazine on Thursday, December 19, 2020, at an event the Roraima Group hosted this year, Somerset, who was nicknamed `Thriller' in the army, says it is an exciting time for her as the veterans all look forward to the occasion.
"Even before the date for the event is finalised by Roraima, the veterans would begin calling because for some, that is the only event that they get to go to and as such they are excited to come out and meet with their "squaddies" and chat.
"I know they look forward to this event, so I ensure that once they are feeling okay, I ensure they are here. It's a joy to see them laughing and chatting with the other soldiers," she added.
When Somerset retired from the GDF she left with a distinguished record of not only being among the early set of females to venture into a traditional male arena, but has been a renowned training officer and is known to have trained several of the females who subsequently obtained high ranks in the army.
She is on record as the longest-serving female training officer at the Tacama military base, having trained some current officers.
She is also on record as being the first female soldier to climb to the top of Mount Ayanganna, located 85 kilometres east of Mount Roraima and with a height of 2,041 metres, a feat many male soldiers would only dream of doing.
Such is the deftness of Somerset who wanted to prove to her male counterparts that she was fit and was no walkover as a female soldier. During that expedition to climb Mount Ayanganna as part of the annual Operation Arrowhead to commemorate Guyana's republic anniversary, she was the only female among 11 men.
Born on September 30, 1956, Somerset who hails from Beterverwagting on the East Coast of Demerara, always had a penchant for competing with boys. It was in 1975 that she applied to be a part of the GDF, but when she got no response, she went into the Guyana National Service (GNS) where she spent one year and upon graduating became a member of the People's Militia. Somerset has never looked back since as she never let any feat be a deterrent because she is a female.