By Stephan Sookram
ONCE you speak of racing and its Guyanese link, you tend to think of the Jeffreys, Mings, Vieiras and Kings; and, given their popularity, you'd be right. From their exploits locally and on the North American and European stages, they have done well for themselves,
But there is another name that has quietly been making stirs on the North American scene. The name is Jared Ramnarayan.
Finishing second in the Final of the ROK Seniors class of the Canadian National Championships and fourth overall represented the greatest stride in his two-year career.
But his determination and pushing through the pain that really underscores his mindset, his battles with low points and his ability to turn those into positives really make him special.
INJURY SCARE
"At the start of the 2019 season, it was rough for me. Having been taken out during both of the opening races of the weekend, I just went through a low point."
The lowest of lows came with his rib injury.
"I got a rib injury in one of my races two months in, so we cut it (training) down to once a week."
"The track surface wasn't smooth; it wasn't perfect so when everyone is pushing at 100%, you've got to suck it up. Just driving from Wednesday to Sunday, on a surface like that destroys your body."
"Over the season, I never really came back 100%. It was a matter of giving myself enough of a break between races to come back at different times. It would hurt for 3-4 days after. So if I raced Sunday, I'd take the week off and the next weekend I would start getting back into a kart."
He said times of doubt over his racing career stepped in, "I started to fall off (the pace) and then mentally I started breaking myself down. You say to yourself, 'I don't know if I am physically able to do this anymore'. The guys in front of me are just finding an extra tenth of a second and I'm pulling my hair out just trying to find this tenth.
"But every time I came back, I came back faster, I came back stronger and if I lose now, I will take the 'L' now, learn from it and come back faster, better, stronger."
TOTALLY WORTH IT
He described that second-place finish at the Canadian Nationals as the brightest moment in his racing career so far.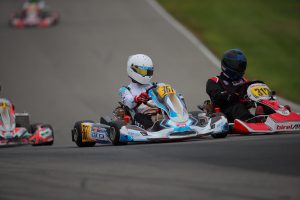 "For sure it was worth it. (Canadian) Nationals came around and at one point I was fighting for the lead but I ran out of laps.
"It didn't sink in for a good week. I still couldn't believe it happened but I've had a different mentality going into a race that I've had so I have not been outside of the top five since that race."
"There is just so much work that went into it and it was my first podium ever. It has always slipped away from me but for it to be as big as that and to be Canada's National Number 2, it was such a great feeling."
2019 SEASON
2019 was his breakout season after doing a lot of 'learning' in the year 2018.
Together with his Professional Racing Ontario team (PRO), he finished second in the ROK Seniors Final of the Canadian National Championships, finishing the year fourth overall.
"Basically from the start of our season, for the first two to three months, I was in the kart twice a week when there were no races."
Working with former Canadian Champion Daryl Timmers, Ramnarayan said was tough but worth it, as the PRO brand has been successful in the past.
"I have no intention of leaving PRO. Daryl and Curtis Fox work so well with me and I progress and as long as I see progression, I'll continue to work with them."
He noted that the relationship with his mechanics and data guys for the year was key in 2019 adding, "It's not just a team; it's a family."
BIG PLANS FOR 2020 INCLUDING GUYANA
2020, for Jared begins in just a week's time. He heads to Florida for some pre-season tours with the Canadian series restarting in May.
"I'm definitely going to be cutting down on my races, because I did like 30 race weekends in 2019. We are going to be cutting down to roughly 10 or 12 but all major events.
"We are also going to be testing some shifters to potentially move to that which is ideally where I'd want to be
"I drove a shifter for the first time during this trip that I was on, so for sure, now that I am finishing up school, I have more time to travel, more time for racing and maybe you can see me."
"It's a lot of focus, everything in my head disappears. Nothing else matters until that flag drops – just the guys in front of me whom I am chasing. I don't look behind me, I don't think about what's happening behind me, I just think forward."