… Game one set for tonight at 'Sports Hall'
THE National Basketball teams of Grenada and Guyana will begin their three-game (December 6-8) Goodwill series tonight at Cliff Anderson Sports Hall, with jump-ball time set for 20:00hrs.
The two coaches, Junior Hercules (Guyana) and Naka Joseph (Grenada), speaking at the pre-game press conference held at Palm Court, echoed each other's comments on the need for more goodwill series between Caribbean nations, in an effort to keep the sport alive in the region outside of the usual Caribbean Basketball Confederation (CBC) Championships.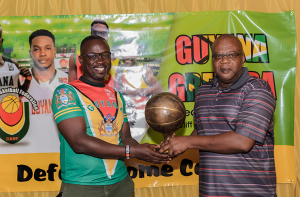 President of Guyana Amateur Basketball Federation (GABF), Michael Singh, also cited the need for more goodwill basketball tournaments to be played, pointing out that with 2020 being a busy year for the sport in the Caribbean, it will give National federations a chance to assess their local and international talent pools.
Meanwhile, K.A Juman-Yassin, president of the Guyana Olympic Association (GOA), who assisted GABF with funding for the event, said that like in every discipline, international tournaments for exposure are required and necessary if athletes are to develop their respective talents and abilities.
Travis Belgrave, Akeem Crandon, Yonnick Tappin, Timothy Thompson, Dominic Vicente, Shaine Webster, Nikkoli Smith, Ray Victor, Terron Welch, Marlon Chesney, Jamal Gilkes and Michael Turner are the members of Team Guyana, who will also have, apart from Hercules as the head coach, assistant coach and manager Dennis Clarke and physiotherapist Akeem Fraser.