–Directs local play, 'Final Chapter'
By Vishani Ragobeer
GUYANESE actor and director Nickose Layne made history at the University of the West Indies (UWI) St. Augustine Campus by becoming the first Guyanese on record to direct a play for the Theatre Production series.
The 27-year-old, who is currently studying Theatre Arts at UWI, in Trinidad and Tobago, was selected as one of the six students who would be allowed to direct a play for 'The New Directors Forum: A Festival of Plays' at the series. Notably, his selection was based on the merit he showed during his first two years as a student within the Department of Creative and Festival Arts (DCFA).
On Saturday last, the production, "Final Chapter", written by Guyana's Clinton Duncan and directed by Layne took to UWI's stage and garnered rave reviews. This staging was the culmination of a few months of rigorous and intricately-layered directing from the Guyanese creative.
"I think what the playwright did, and I attempted to continue, was present reality in a story-like way," Layne told the Buzz, explaining 'Final Chapter'.
This play was fantasy-themed, but addressed topical and prevalent issues in the Caribbean society, such as poverty and rape. And Nickose reasoned that this play illustrated that art can be a vehicle for social conversations on these topics.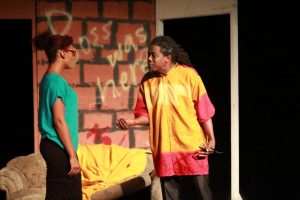 For him, this specific play demanded that he exercise his directing skills to ensure that his cast was adequately representing those people, their emotions and realities. This, he said, was a must, even if it made the audience feel uncomfortable at times.
"Art is not supposed to make you feel comfortable all the time," Layne stressed, adding: "People have to know that this is not just us putting on plays because we think it's nice; this is us connecting with humans, and connecting with the human stories in a way that only art can do."
And he posited, "I'm going to do art, and if it makes you feel something, or think, then my work here is done."
Much of the warmup sessions during rehearsals involved the cast getting to know each other better, in an attempt to establish just a bit of intimacy and comfort among the group. He explained that this was a particularly important factor, which allowed the cast to be as authentic as possible in portraying those serious social issues.
Aside from his desire to convey those authentic emotions, the Director also indicated that he wanted to 'finesse' the production so that when it was staged, it would be thoroughly enjoyed.
The cast engaged in physical warmups to safeguard against "sloppy" movements on stage, and, as you would expect, getting his actors to read their scripts was a must. And he encouraged them to know the script by heart.
In fact, as the Director, he recalled being told once by another Guyanese director that the director should be the person who knows the script best. And, presumptuously, he posited that he knows the script better than its writer.
"I does (sic) take everything with a grain of salt, whether people say they love it or they hate it. I'm going to take it with a grain of salt," Layne said, commenting on the reviews he would have received thus far.
However, at the end of the production, which was the second and final play on Saturday night, there was a question-and- answer segment between Nickose and his cast, and the general audience. Based on the comments made during that segment, Layne was confident that people "connected" with the play and its overarching message.
It must be noted, however, that Nickose's achievement was noteworthy, but this production was still a component of his academic endeavours at the UWI. According to him, his success here has reaffirmed to him that he is a director.
The play also reaffirmed just how connected he is to his "Guyanese-ness", and how instrumental his culture is in his directing style. Whether it is selecting a Guyanese play, or using Guyanese ring games (you know, the classics like 'There's a brown girl in the ring' or 'Dog and the bone').