– Urge women not to live in silence
By Indrawattie Natram
WOMEN who are constantly abused by their husbands in Berbice, Region Six, are calling on other women in other regions to speak out and not to live in silence.
The Pepperpot Magazine had the opportunity to meet with two women who had interesting stories to share; these women were constantly abused by their husbands and were even hospitalised at some point, due to severe whacks they had received.
Saraswattie Etwaru, 33 years old of Hampshire, Corentyne, Berbice, was beaten severely by her 24-year-old husband while she was five months pregnant. According to Saraswattie, he continuously beat her during their three-year relationship. Etwaru, relating her story, said her husband would beat her for no reason and sometimes she really wished she could do better. Her most recent violent encounter, she said, was within the last two weeks. She recalled that she left Church and went to her sister's house and on her way home she was greeted by her husband. She said that the furious man broke a branch from a nearby plant and began beating her. He took the stick and hit her for three hours straight and she did not understand the reason behind his behaviour.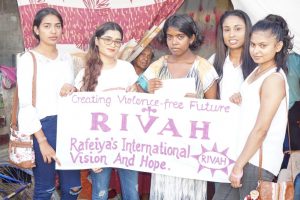 "He started beating me from about 11 o'clock till 1 o'clock," the woman said, forcing back tears. She vividly recalled that she was also hit several times to her head with a huge piece of wood. "I wait till he drops to sleep and then I come out the house, my skin was paining, a woman really has to go through a lot," she said. Etwaru, after escaping, rushed to a neighbour's house and was assisted in going to the hospital. She was hospitalised and is being counselled; she is afraid of going back to her home as she fears for her life.
Another domestic violence victim is 21-year-old Seema Bisnauth of Rampoor, Corriverton, Berbice,who is currently nursing injuries about her body; she was severely beaten last Saturday evening while at home. According to her sister Latoya, she visited her sister at her home on Sunday, but after calling out for her several times she did not receive a response.
The sister said she then realised that something was wrong. She said that she was eventually allowed into the house by her brother-in-law and found her sister lying in pain on the bed. She was shocked to see her sister in such a condition and volunteered to take her to the hospital; it was on the way to the hospital that her sister broke down in tears and related to her that she had been severely beaten by her husband.
The couple have been married for three months. They have a three-year-old child and Bisnauth is eight months pregnant. According to Latoya, this is the third time her sister was beaten by her husband. She said the couple's three-year-old child had to be removed from the home and now lives with a grandparent for safety. The family is also worried about Bisnauth's life and is concerned about her condition.
Having heard of the women's plight, Rafieya's International Vision and Hope (RIVAH), a non-profit organisation founded in 2014 reached out to the two women who are both pregnant. The women were provided with monetary donations, that were to assist each victim with medical and other related living expenses. The RIVAH team will be working along with the women to provide moral support until they are mentally strong.
Handing over the monetary assistance to the women were volunteers attached to the organisation, Sushmita Kalika Singh and Natasha Phagwah Khan.
Singh said that RIVAH reached out to the women in October, given that it is also Domestic Violence Awareness Month. She said the month first began in 1981 by the National Coalition Against Domestic Violence as a Day of Unity to connect battered women's advocates across the country. Singh said domestic violence affects millions, both women and men, of every race, religion, culture and status; as such, RIVAH feels honoured to have assisted the women. Both women expressed happiness upon receiving the donation.
Rafieya's International Vision and Hope (RIVAH) is an NGO which was launched by Miss World Guyana 2014, Rafieya Husain. Its mission is to create awareness and prevention of domestic violence and suicide in Guyana. RIVAH launched its first Outreach Centre on the Essequibo Coast in 2014; in 2019, it launched its presence in five other regions in Guyana through the RIVAH volunteer programmes.
Anyone who wishes to help more women can reach out to RIVAH members or send an email to rivahguyana@gmail.com.