by Naomi Marshall
AS the Guyana Rice Development Board (GRDB) reintroduces rice flour to Guyana's market, Minister within the Ministry of Agriculture with responsibilities for Rural Affairs, Valerie Adams-Yearwood, said that the "rice industry is on an upward trajectory with continued investment positioning rice to sustain economic growth in the future."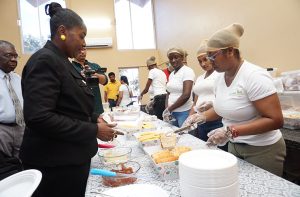 This view as expressed by the Minister on Thursday, at GRDB's showcase of "opportunities for blended flour in Guyana" at the La Bonne Intention (LBI) Complex.
Opening the exhibition with a presentation on 'rice flour' was Gangadai Dindayal, Research Assistant of GRDB who said that over the last few years the company has been carrying out research on downstream processing and value addition for rice.
Gangadai said that through research and testing GRDB has proven that value added rice based products, such as rice flour, can be blended with wheat flour to extensively make tasty, delicious and healthy pastries, bread, cakes, cereals, amongst others at a ratio of 20:80 percent of rice and wheat flour respectively.
According to Dindayal, Rice is the largest agricultural commodity exported. In 2018, Guyana produced 627,327 metric tons of rice and exported 74 percent, which indicated that the utilization of rice in Guyana has always been low.
Addressing the audience yesterday was the General Manager of GRDB, Nizam Hassan, who said that the showcase aims to promote rice as a healthier alternative, a revenue generator, employment creator, sustainable nation builder.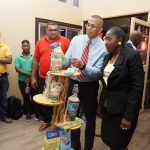 "We are here this morning to plant a seed in terms of rice, in terms of disseminating and communicating that there are opportunities for rice in terms of its versatility, its benefits and its future," he stated.
According to Hassan, rice is the traditional staple for almost half of the world's population and as the population grows, the rice consumption rate will increase resulting in the increase of rice demand.
"Due to sustainable growth in population and development of agricultural practices which improve rice yields and strengthen rice supply, market performance will continue in the upward trend," Hassan noted.
The Manager said that as rice consumption and economies grow there will be a gradual but definite movement from subsistence food crop production to diversify market oriented production systems.
"A diversified market production-oriented system would evolve and involve producing food and food products based on market requirements, therefore, rice will not only be consumed in its traditional way but there will also be a need for products that are rice-based," Hassan added.
Meanwhile, Minister Yearwood championed the venture noting that it is a testament to the government's commitment to further develop the industry, by promoting research and development, in areas such as the production of products and byproducts, at all levels, as the sector serves as a fine example of Guyana reaching its fullest potential.
She stated that the venture will not only increase Guyana's local products diversification but it will also allow the possibility for nutritional fortification.
According to Yearwood, Guyana only consumes 81 kg per capita of the rice it produces which she sees as very low, while the majority is exported to countries such as Mexico and Cuba.
"It is my view that in order to truly maximize the economic benefits derived from rice production, the development of value-added rice products is necessary," she said.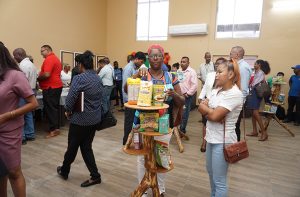 The Minister noted that, with the reintroduction of rice flour into the market, there will be a decrease in Guyana's overall import bill and value-added rice and rice-based products will also create employment and serve as an additional source of income to those who get involved in the production chain.
"The industry will also increase the shelf life of products made from rice, while reducing the importation of these products from other countries. Promoting value-dded rice products will eventually increase local product diversification with consumers being exposed and encouraged to wider varieties of traditional and non-traditional products usually manufactured solely with wheat flour," Minister Yearwood added.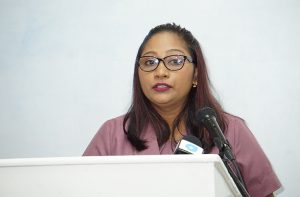 She also stated that the venture would create opportunities for training locally and abroad and, as such, the government will be willing to invest to ensure the industry is sustained.
"Funding will be made available and systems put in place to add the necessary academic and technical training capacities to institutions like the Guyana School of Agriculture, Guyana Technical institute and the University of Guyana," Yearwood pointed out.
Agro processors were also encouraged by the Minister to create quality products worthy of competing on the international market – products to add to the growing range of locally produced commodities.
Attendees were given the opportunity to view the bi-products of the blended flour and even taste blended flour dishes at the event.
The GRDB was established in 1994 to develop the rice industry and to promote the expansion of the export trade of the industry.
It also established facilities to carry out research relating to rice and to extend the result of such research to farmers, while engaging in promotional and developmental activities which the board deems necessary for the purpose of developing the rice industry.