– CH&PA comes through for Broad and Lombard Streets residents
SQUATTERS of Broad and Lombard Streets have moved one step closer to realising their dream of home-ownership.
Officials of both the Central Housing and Planning Authority (CH&PA) and the NGO, Food For The Poor (FFTP), were present on site at the newly-developed Prospect Housing Scheme on the East Bank of Demerara (EBD), to point out to the beneficiaries the plot of land they've each been allocated.
The squatters were given the opportunity to put their names and lot numbers on their respective house lot.
The main purpose of the site visit was for the residents to familiarise themselves with the Prospect Housing Scheme area where they will soon be living, and to know exactly where their houses will be located when the construction process is completed.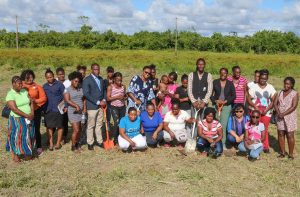 After each being served a court order, the Broad and Lombard residents, who had been squatting in the area for some 30 years, were forced to move.
Speaking with Lovern Brummell, one of the beneficiaries, she expressed her joy at the prospect of having a better home to house her five children.
"I feel very happy with the initiative to have a comfortable home for myself and kids," she said. "I also feel very safe in the new environment, and it's perfect for the kids to grow up in."
This strategy to relocate the Broad and Lombard Streets people was implemented by former Minister with responsibility for Housing, Valerie Yearwood, who helped developed the project back in 2017. This was done as part of an effort to end squatting and to assist residents.
A total of 83 persons, 51 of whom are children, will be occupying the new homes at Prospect, which will all have modern amenities at their convenience.
More so, The CH&PA, through the Projects Community Development Departments, with the help of Food for the Poor, will kick-start the construction of these homes, which will commence next week.
The next phase that will be rolled out for the Broad and Lombard Streets residents will see 31 families relocated to Cummings Lodge on the lower East Coast Demerara.