By Naomi Marshall
HUNDREDS of residents of North Ruimveldt, Georgetown and its surrounding communities benefitted from an outreach that was carried out by Guyana's largest charitable Non-Governmental Organization, Food for the Poor Guyana Inc. (FFP).
The outreach was held on Friday, at FFP's office in North Ruimveldt, and saw the distribution of food and household items and clothing to persons. With the organisation placing emphasis on taking care of the elderly and persons with disabilities, provisions were made to accommodate the two groups.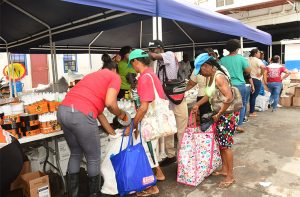 The outreach was in keeping with FFP's mission to provide relief to those who are in need. It is the vision of FFP to help the materially poor and to renew the poor in spirit.
In an interview with the Chief Executive Officer (CEO) of Food for the Poor, Kent Vincent, he said that helping residents of the area where FFP is based, means a lot to the organisation.
"It is our work to bring relief to those who are in need and today we are helping the people in the environs who are in need of help," he added.
According to the Chief, FFP receives over twenty requests for assistance by residents daily, and as such, the decision was made to host an outreach that will tackle a large number of persons at once. FFP aimed to target 700 persons on Friday, as mentioned by Vincent.
The CEO noted that such an initiative may be held up to three times a year; however, FFP will be targeting communities in Berbice, East Bank, East Coast, "and areas that are vulnerable and in need of assistance."
He added that the organisation also receives requests from other NGOs, groups, and churches, which it is trying to help as well.
Recipient of the outreach, Shontel, said that the gesture has been a great help to her and she also expressed gratitude to the NGO for the good work that it is doing.
Gloria is a fire victim that also benefitted from the outreach carried out on Friday. Shontel noted that it was her second time benefitting from the organisation which has helped her a lot.