AT age 97 and fast approaching 98, Evelyn Bacchus though not yet a centenarian, is proud to be the oldest resident of Victoria village, – one of the first villages bought by former slaves from the European planter class in 1839, following the Abolition of Slavery in British Guiana in 1834.
On November 7, 2016, Mrs Bacchus was awarded a plaque by His Excellency President David Granger asVictoria's oldest resident.
Born on December 28, 1921, Mrs Bacchus also known as "Grannie," has had three marriages, the last being to Clarence Bacchus. She now lives at Sideline Dam, Victoria. Bacchus told the Pepperpot Magazine that she was born at Morawhanna in the North West District, at a time when there were just about four houses in the village and life there was dark and dull.
Prior to moving to Morawhanna, her parents lived on the coastland, but somewhere along the line her father decided to move to the North-West to eke out a living through mining for gold, which seemed more lucrative than other occupations within his reach at the time.
In the words of Grannie, "My father went up there looking for gold and didn't find any, but he met my mother, Leonora David and instead of digging for gold, he dig for three of us there. " By the end of the fourth year she (Evelyn) was born at the Morawhanna Hospital, with three others before her, Grannie explained.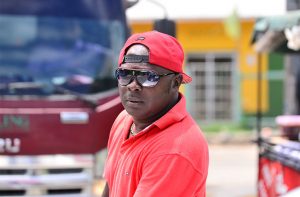 As for Morawhanna, whether or not there was a 'gold shout' in other parts of the North-West where gold was being mined, food was always readily available. It is an agricultural area where residents do cash-crop farming and sell such stocks whenever the boat (steamer) comes in. It is a village where there's lots of crab during the July-August season and moracut (a thick-meated fish) would swim down from the nearby Venezuela border to Morawhanna via the Mora Passage throughout the year.
Perhaps it was the abundance of the moracut fish in the vicinity that led to 'Morawhanna' getting its name, residents surmise.
While there, one of Evelyn's brothers drowned in the Barima River and perhaps it was this misfortune that led her father to return to the coastland with Evelyn and the other two siblings. And so at age four, she and her two siblings were taken back to the coastland where they settled at Victoria.
And as for memories of Victoria, Grannie related: "When I come here I was just four years and lived with my Aunt Catherine Babb, right out on the Middle Walk, a short distance from here. My mother who was Leonora Davis had a flourishing farm in the North West District and used to ship out corn from the area — 40 and 50 bags at a time — on the North-West steamer to Georgetown," she recalled. So whereas her father did not 'make it' with gold, her mother continued to tend her farm and surpassed his expectations.
Still very young, Evelyn was left in the care of an aunt in Victoria, since, given the magnitude of her mother's farming undertaking at Morawhanna, it was a tall order for her to provide the required care. She was therefore left in the care of her aunt Catherine Babb and husband Thomas Babb who, despite the commitment of manufacturing coconut oil, rearing pigs, ducks and fowls on a large scale, still did a fine job of caring for the young child.
She attended a nearby Roman Catholic school in Victoria and continued to live with her aunt and uncle until she got married to Clifton Andrews in 1945 at age 24.
Coconut oil seven cents per pint
"In those days coconut oil was seven cents per pint and one cent could have bought something in those days," Grannie recalled. And just what was the response to the sale of coconut oil and the lot? "Phenomenal!" she replied. "And the old man used to go to town every Tuesday night on donkey cart to sell the produce – donkey cart, not cars like now. And he did good business."
"It was a tall order, my uncle Mr Babb and others used to transport the coconut oil in what eventually came to be known as kerosene oil tanks, and take them to town where they would get it sold," she remembered. At that time only two buses were plying the GT/Cane Grove/Mahaica route, so if you wanted to get on board you really had to be on time.
Childhood reflections of living in Victoria
Of incredible memory, she recalls: "My school days were exciting times, even though we had a strict Headmaster, G.H.A. Bunyan from Buxton. They used to come with the nine o'clock train, up to Belfield, or other train station at the time."
Reflecting on her childhood days in Victoria, Grannie admitted: "It was hard. We wore no shoes on our feet to go to school, and the road was made of burned bricks. As for water, we had no water running through the streets. We had to fetch black water in buckets — till from Lowlands after school in the afternoon. But when rain fall it's easier, cause then we would get rainwater in pails."
But that apart, times in Victoria were nice, Grannie recalls, but added that her best recollections have to do with the occasions when she would sing — literally regale audiences with her nightingale's voice. "My relatives were Christians and we would go to a nearby church and I would get the opportunity to sing. I took after my mother. I used to sing all 'over the air' on VP3BG and VP3MR and it made me feel so happy. Those for me, were wonderful days that I always reflect on. I still like to sing, but you know the voice get old now, but I have played my part, and if they have any concert anywhere, I am there, " Grannie said, with an air of gratification.
Evelyn Bacchus, in whom the residents of Victoria take great pride, gave birth to two wonderful sons, one of whom died just over a year ago. The survivor Compton Edgar Adams now shares a home with her at Victoria Sideline Dam, where they have a very good mother/child relationship.