– Dr. Tulsi Dyal Singh says, opines 'oil contract' with Exxon is 'good'
THE revenue that Guyana earns from its developing oil and gas industry should be used in such a manner that it will reap long-term benefits for Guyana, according to overseas-based Guyanese, Dr. Tulsi Dyal Singh.
Dr. Dyal Singh has been living in Midland, Texas for a number of decades, where there is large amounts of oil-drilling done. Over the years, he has garnered much knowledge of the oil and gas field since he has been involved in both the oil 'booms and busts' in that region.
At a talk organised by the Guyana Annual Editorial Board, on Friday at the Moray House, Dr. Tulsi related that he has been meticulously following the developments in Guyana's oil and gas industry.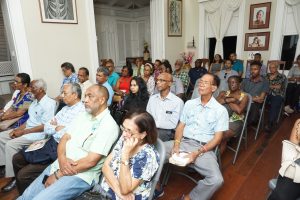 "From my perspective from afar, this has to be an exciting time for Guyanese," he said, later adding, "You have about 30 years to put in place a country that your descendants will be proud to call Guyana – my native land."
For Dr. Dyal Singh, Guyana should use the money to invest in infrastructure across all sectors; a new and reliable electrical grid which integrates "green power generation" from hydro, solar and wind sources; new water distribution mains and distributors; technology and polarisation of the alluvial coast for agricultural expansion.
Contrary to popular belief, according to Dr. Dyal Singh, Guyana is not "late to the party" with its recent oil finds, even as the world moves toward renewable forms of energy.
"Oil and gas will provide most of the world's energy needs for another 20 to 30 years," he said, noting that it is expected that Guyana will reach its "peak" of oil production by 2027, which is about seven years from now.
For Guyana to effectively use the revenues on those areas, Dr Dyal noted that the Sovereign Wealth Fund (SWF) known as the Natural Resources Fund (NRF) in Guyana is instrumental.
"Like Norway, don't touch the SWF until oil and gas revenue drops to half from the peak and then restrict annual drawdowns to about four per cent of the fund balance," he suggested. In so doing, he said Guyana will essentially be reinvesting its saved profits to reap further benefits.
OIL CONTRACT
Dr. Dyal also commented on the Production Sharing Agreement (PSA) Guyana signed with ExxonMobil's subsidiary Esso Exploration and Production Guyana Limited (EEPGL), and its two other partners, Hess Corporation and CNOOC/NEXEN.
"Overall, I think it's a good contract. I'm happy about it, [though] I'm not satisfied for Guyana's sake, but it is a reasonable contract," Dr. Dyal said, speaking about the contract which was renegotiated by the incumbent Government in Guyana.
This contract saw Guyana receive an $18M signing bonus and the country is set to receive two per cent in royalties and 50 per cent of the profits when oil production begins in 2020.
Comparatively, in the Permian Basin found in the Gulf of Mexico, where Dr. Dyal resides and where the oil is found on the mainland instead of offshore, the signing bonus is currently US$230 per acre for companies interested in drilling for oil.
The Stabroek Block is about 26,800 square kilometres, or 6622424.2 acres in size, and cognisant of that, he opined that the signing bonus is "extremely low".
In the Permian Basin, about 15 per cent to as much as 28 per cent is paid in royalties to landowners by the oil-drilling companies. When compared to Guyana's two per cent royalties, Dr. Dyal opined that the amount Guyana is receiving is also low.
However, Singh hastened to add: "That [two per cent] royalty is mitigated by something we (in the Permian Basin) don't have… we don't get a share of the profits."
As aforementioned, the PSA stipulates that the Government of Guyana will garner 50 per cent of the profits derived from the oil. That is, 50 per cent of the estimated 5.5 billion oil-equivalent barrels, which includes about 700 million commercially recoverable barrels of oil only. This, according to Dr. Dyal, is a 'plus' for Guyana.
Guyana also receives US$1M in rental fees from ExxonMobil, as part of this contract.
"If that was all out in the open, I think the negativity would not be as bad as it has become," Dr. Dyal Singh posited, noting that it is his belief that many Guyanese have been made to believe that Guyana will not benefit from the massive oil finds.