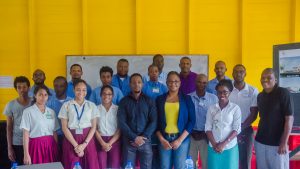 "GIVE a man a fish and you feed him for a day, teach him how to fish and you feed him for a lifetime," is a quote from the Chinese philosopher Lao Tzu, founder of Taoism.
And for the Government Technical Institute, it's more of an unwritten rule, especially for the students taking the course Building and Civil Construction (BMTD4).
The students, a group of 13 forward-thinking individuals presented their final- year projects this week, all with one aim: using their skillsets.
Building a better Guyana through a positive mindset
For their project, each of the students had to go back to their community, find an issue that was plaguing that community and solve it, using his/her skillset, according to lecturer
Kabila Hollingsworth
"We told them to look into their community, see a problem and fix it with their skillset. And all of them fell into their element."
The project, he said, is for the students' grades, but what they learnt along the way was a lifelong skill.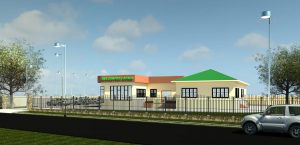 "This was not us saying to them [the students] to regurgitate what we have taught them over the last four years; it is about saying to them that we [GTI] have equipped them with knowledge, how they make a change in the world is up to them," Hollingsworth said. "I believe that we can eradicate poverty through projects and courses like this, through thinking like this. There are people here who know this, lecturers who understand this."
He continued, " It is part of a larger thinking that we are trying to get the students to understand. A thinking that you don't have to be of a particular skillset to effect change or to make your community a better place. Little by little, if we get people to understand that their simple skillsets if used to fix small problems in their community, then we can make this country a better place."
The lecturer stated that his mantra to the students is: "Youth must effect change and the weapon of choice must be education." He stated that be believed that this philosophy cuts to the heart of poverty, illiteracy, idleness and laziness.
We have the talent, give them a chance
What the project uncovered was astounding, Hollingsworth said. "One of the students, David Simon, designed a centre of hope because that student felt that issues of mental health, including depression, did not have a place where persons could be treated. Another student, Dextor Paul, saw that her post office was too small for the community and redesigned that to encompass parking, a special place where the differently abled could gain access and a special part for pensioners," he said.
"A third student, Keshia McPherson, designed an entire university for architectural engineering, because she views the field as an expansive one when first-oil begins in 2020, and that's the thing we want these firms coming into Guyana to see; we want them to see that he have the thinkers and the doers, there is no need to outsource."
The projects featured building specifications and floor plans along with scale measurements and estimated building material quantities and times for construction.
Home Grown is best
Principal of GTI, Principal Renita Crandon-Duncan, says this mindset expands throughout the students of every field.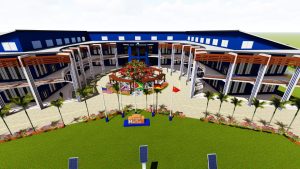 "We at the GTI try to impart on our students, the importance of a skillset or trade. Once you have that, then it can never be taken away from you. The knowledge we give students here is only one part of it, but we want students to use that knowledge, not take it and repeat it, but apply it to situations, make it work for them," she said.
She believes, much like her fellow lecturers, that institutions such as the GTI can help to make a difference in so many ways across the country.
The students completed the following drawings as projects: Keshia McPherson-I.U.A.E international university of architecture and engineering; David Simon,the Guyana Centre of Hope Foundation; Dextor Paul, Buxton Post Office; Andrew Simon, Tucville Town House; Nikita Frazil, Montrose Market Office; Josheb Mangru, JEM Entrepreneurial School; Quincy Mohabi, T and D GPL office; Sean Davis, Linden Technical Centre and Aminatee Thompson, Drafting and Learning Centre.