POLICE are investigating the alleged execution of a father of one in a pick-up on Sunday at Kuribrong trail, Potaro River, Region Eight.
Dead is Pieron Nicholas Bobb, 34, called "Redman", a driver and mechanic of Lot 23 Caribease Hill, Bartica, Essequibo River.
Reports indicate that Bobb was transporting dredging equipment from Kuribrong Trail to Kuribrong Backdam along with the owner, a 60-year-old miner of Kuribrong.
It is alleged that during the journey along the Kuribrong trail, Bobb observed a green model 'M' truck proceeding in the opposite direction at a slow rate, and as a result, he stopped the pick-up on the left side of the trail for the truck to pass.
However, when the Model 'M' truck was several feet away, the 60-year-old miner heard two explosions and he jumped out the pickup and laid face down on the ground.
The miner reportedly told police that he then heard a strange voice which ordered him to jump into the truck.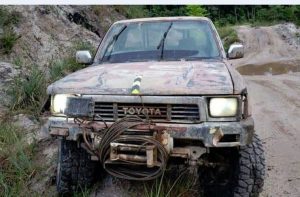 The minder complied and entered the tray of the lorry where he saw about eight men. He was then ordered to lay face down.
Approximately 15 minutes into the journey, the miner managed to jump off the lorry and escaped into the bushes.
The terrified miner then returned the scene where he had left the pick-up with his supplies. There he realised that Bobb was dead due to a gunshot wound to the chest.
According to police source, investigators working to ascertain the motive for the murder found that Bobb was in a recent confrontation with a dredge owner called "Pak", and some of his workers.
"Pak had allegedly discharged some rounds in his direction," the police source noted.
It is alleged that on the fatal day Bobb was killed, "Pak" and some of his workers left their camp on Sunday with a Model 'M' truck, heading to Georgetown.
When police visited the scene, Bobb's body was found slumped over the steering wheel of the pickup, with what appears to be a bullet wound over the right side of his chest.
The body was taken to the Bartica Public Hospital mortuary where it is awaiting a post-mortem examination.
Bobb's mother, Jacqueline, is calling on the police to bring her son's killer to justice.