Within two months, over 400 residents from Bare Root, Bachelor's Adventure, will receive their Certificates of Title to their lands, the Central Housing and Planning Authority (CH&PA) assured on Saturday as it corrects an age-old problem.
For decades, the residents of the East Coast Demerara (ECD) village have been without formal property rights for their lands; however, with the intervention of the Minister within the Ministry of Communities, Valerie Adams-Yearwood and the Attorney General and Minister of Legal Affairs, Basil Williams, the process has been accelerated.
On Saturday, well over a hundred residents gathered at Middle Road, Bare Root, for an update on the processing of the Certificates of Title, and to express their land-related concerns.
Minister Williams said the issuance of Certificates of Title for the lands in Bare Root has been an issue for way too long, and the A Partnership for National Unity + Alliance for Change (APNU+AFC) will address it. The issue was raised during a recent visit to the village by Minister Williams.
"For us, it is very important for you to have title to your lands. Titles are very important, why? Because you could utilise your title as collaterals for you to raise loans with the financial institutions," the legal affairs minister explained. He noted that, historically, many of the villages like Bare Root, Bachelor's Adventure were a single block of "transport" land.
This, he said, stymied the development of many villagers because they were unable to develop their lands. He said the APNU+AFC is committed to addressing the land issues in the country, and through CH&PA, it has begun to issue Certificates of Title for Lands to villages which have been unable to receive formal rights. As a case in point, the legal affairs minister alluded to Angoy's Avenue in New Amsterdam where titles have already been issued.
MUCH RELIEF
"In the same manner in which they have done that for Angoy's Avenue, I am saying that they are going to be doing that for you now. So you can expect your titles, I am advised, within two months," Minister Williams assured.
CH&PA's Community Development Department Director, Gladwin Charles, said the land issues in Bare Root dates back to the early 2000s, according to the records. He explained that in 2004, the Guyana Lands and Surveys Commission surveyed the area and created a plan; however, there were a number of issues with the measurement. In 2009, a new plan was drafted and residents were invited to apply for their Certificates of Title for the Lands but another issue arose – the parcel numbers had to be changed from the first plan, and the process was halted.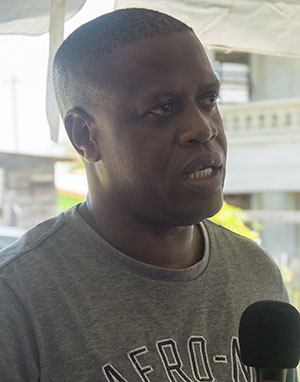 "A third survey was done in 2013, and that was finalised in 2017," Charles said while noting that Minister Adams-Yearwood played a critical role in accelerating the process to allow for the processing of the titles. "The third plan that we have now, fortunately for us, the surveyors at Lands and Surveys, they maintained the parcel numbers for the 416 lots we have, from the second plan," he explained.
The Land Registry has since asked the Lands and Surveys Commission to prepare a schedule of all the numbers. It was noted that the southern section of Bare Root belongs to the state and comprises 93 lots of the 416, as such, CH&PA is required to apply to Lands and Surveys by way of a State Land Application, for the Commission to sign it off with the Registry.
GROUND WORK COMPLETED
Charles told the residents that the groundwork has been completed; however, some residents are required to visit CH&PA's Brickdam Office for final verification in the coming week. Persons are asked to visit during office hours on Monday, Tuesday and Wednesday to verify their information. The entire process is expected to be completed within two months.
In response to a query raised by the legal affairs minister, Charles said the plan designed did not include a space for a community centre and playground; however; he assured that the CH&PA, with assistance from the Lands and Surveys Commission, will work to identify a suitable area.
Interjecting, an elderly villager,Naomi Prince, informed the officials present that when residents first occupied the area now called Bare Root, Bachelor's Adventure, lands were identified for the construction of a church, a health centre and a community centre and playground; however, they were subsequently occupied by other people who settled in the village.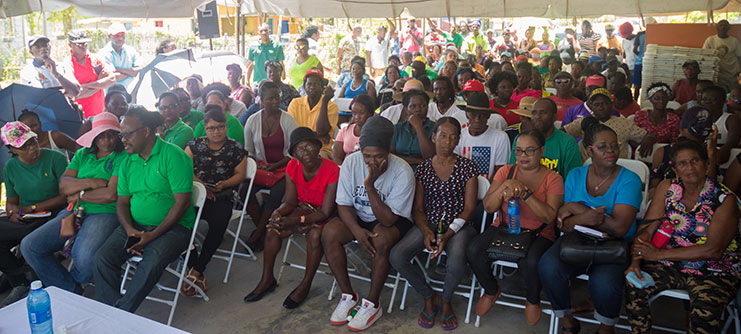 Wesley Ramsey, another resident, made a case for a section of the backlands to be transformed into a playground, market facility and a church. Stating that the "backlands belong to the people of Bare Root," he said residents there should be given additional lands for farming activities. Bare Root, he pointed out, was once a thriving farming community.
"Bachelor's Adventure was bought by the slaves, and we the people need our land, so instead of just asking for the playfield, we need to get back our land… this is something that should be given unto us, it is our right. This community has been labelled and degraded, marginalised and stigmatised, being prone to crime and unemployment, but this community has impede every strata of public development… and we want this stigma to be removed, because we have over 2000 youths in here," Ramsey said in a passionate presentation.
In response to the suggestions and concerns, CH&PA Chief Executive Officer, Lelon Saul, committed to addressing the issues raised. "Our interest is to build strong, cohesive and empowered community…. In the building of communities, we recognise that there must be certain features, like a playground and other social facilities, and that is why we will ask of the Lands and Surveys Commission to make more lands available so you can get those things done," Saul said.
The CH&PA CEO implored the residents to apply for agricultural or farmlands even as he committed to working with them. Meanwhile, other residents, even those from neighbouring and far-flung communities present, complained of not having access to land for residential use. Two public servants disclosed that they applied for house lots in 2008 and 2001 but, to date, they have not been given an allocation.
In other instances, residents complained about being sold farmlands for residential use by a single individual. Living on the farmland with limited access to water and no electricity has been a major challenge, the residents said while calling on CH&PA to intervene. Both CH&PA and the legal affairs minister agreed to follow up on a number of the issues raised.