LECTURERS from Technical Vocational Education and Training (TVET) institutions across Guyana will benefit from training in Heavy Duty Equipment Maintenance – Level three.
The new programme of training was launched at the Linden Technical Institute (LTI) on Friday. It will span approximately two years. Deputy Principal (ag) of the LTI, Mr. Hector Anthony, highlighted that the purpose of the programme is to train lecturers in this area so that they in turn will train students at the respective TVET institutions across Guyana.
According to a release from the Ministry of Education, Assistant Chief Education Officer (Technical), Patrick Chinedu Onwuzirike, indicated that one outcome of the programme is that the needs of farmers will addressed in terms of having qualified men and women to repair and maintain their heavy-duty equipment. Onwuzirike also remarked that the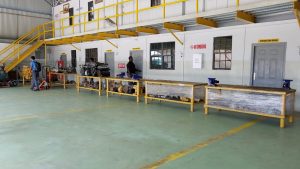 programme will contribute immensely to the emerging oil and gas sector and said that the TVET sector of the Ministry of Education has been in contact with stakeholders in the oil and gas sector to know what are and what will be the manpower needs.
"The ACEO (Technical) said that the Education Ministry has been advised to focus on training a workforce for the support sectors that will arise as a result of the oil and gas sector," the release also noted, and added that he highlighted that the TVET sector is committed to ensuring that the human capital needs of Guyana are brought to bear. The training programme is being facilitated in collaboration with the National Energy Skills Centre (NESC) out of Trinidad and Tobago and the Organisation of American States (OAS).
Representative of the OAS, Jean Ricot Dormeus said: "Every launch of an education programme creates hope, jobs and contributes to the development of the country."
He also noted that the programme will serve to prepare the youths of today for the economy of tomorrow.
The release indicated that the LTI is designed as the hub for the programme, but the 10 participants in the first batch were taken from the Government Technical Institute, the New Amsterdam Technical Institute and the Mahaicony Technical and Vocational Training Centre (MTVTC). Senior Manager of Business Development (NESC), Lisa Joseph, reportedly said that over the years, her entity has reviewed and tailored its curriculum to address the changing needs in the industry. The release also noted that the principal of the LTI, Shurla Brotherson, noted that the programme will match the skills of the population with the industry's needs of today and tomorrow.