…for establishment of Electronic Single Window for Trade
MINISTER of Finance, Winston Jordan, on Monday signed a loan agreement with the Inter-American Development Bank (IDB) for US$6,000.000 for the establishment of an Electronic Single Window for Trade.
This project will not only improve trade facilitation, but significantly reduce the time and cost of trade processes here, the Ministry of Finance said. The executing agency is the Ministry of Business. Mr. Luis Alberto Moreno, President of the IDB, signed on behalf of the bank.
Minister of Business, Dominic Gaskin, during an interview with the Department of Public Information (DPI) last year, had explained that the ESW project relies heavily on several agencies to execute the mandate of the scheme. "I do not think there has ever been a project of this type that requires different types of agencies to be involved in it."
He noted the co-operation of various agencies is vital to the project's success, especially since it allows access to an electronic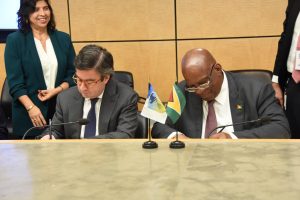 platform, through which they can conduct numerous types of transactions. The ESW is mainly a trading facilitator; as such it would involve the Guyana Revenue Authority (GRA) as the major stakeholder. It will also involve other licensing agencies and agencies that endorse permits or import and export licences, among others.
However, Minister Gaskin indicated that a number of agencies have not yet begun the digitisation process, which poses some challenges in electronic information sharing. Nevertheless, the minister noted there are other agencies indicating "readiness" towards the project. The ESW project is one that will be loan-funded, and the Business Ministry is hoping the funds will be approved by the end of 2019. Minister Gaskin said once the loan is approved "it will speed up the process".
On February 21, 2018 the Ministry of Business in collaboration with the Inter-American Development Bank (IDB) hosted the first ESW workshop with public and private stakeholders at the Pegasus Hotel, with the focus of "Developing a Roadmap to Electronic Single Window in Guyana".
The workshop was aimed at identifying and analysing conceptual models and challenges for the implementation and global practices for the development of the ESW in Guyana. The Single Window aims to expedite and simplify information flows between trade participants and the government, by bringing meaningful gains to all parties involved in the domestic and cross-border trade.
According to the United Nations Centre for Trade Facilitation and Electronic Business (UN/CEFACT) Recommendation 33, a Single Window is defined as "a facility that allows parties involved in trade and transport to lodge standardised information and documents with a single-entry point to fulfil all import, export, and transit-related regulatory requirements. Once the information is electronic, then individual data elements should only be submitted once."