OVER the past few years with the rise of social media has come a proliferation of chances to become famous by "going viral", and lots of young people have been exploiting this avenue as a way of sharing their cultures, across the world.
Here in Guyana, some have found their niche as online sensations, including "Kunchi TV" being run by 32-year Ronald "Kunch" Reynolds, who's been averaging 300,000 views on his weekly videos about life and laughing.
"I was always a fun person, I like comedy like making jokes and I start doing skits around friends and family keeping them lively," Reynolds explained of his beginnings.
"In 2011 I decided to join a comedy company by the name of Mori J. Van. The director of that company saw my potential and started giving me lead roles, then that company break up and everybody went their own separate ways. But I just decided to keep doing my own thing and keep being funny," he said.
It comes as no surprise to Reynolds that he decided to follow a career in comedy, as according to him, he's always had a natural knack for being funny. But what pushed him to do viral videos was the response to his "Rio Dry Swim video", which parodied a swimming competition in the lead up to the Rio Olympics in 2016.
The video was uploaded on his Facebook page where it garnered over 60 million views, and was shared by several celebrities, including Caribbean artiste Dexta Dapps and Shensea. In the video, Reynolds and a friend are seeing pretending to swim on land as they crawled about on a lawn while other friends threw water on them.
However to his dismay the video, along with his entire page was removed from Facebook because Reynolds did not have the copyright to music used in the video. Reynolds eventually reposted the video on YouTube, but it would not be as big on that social media site.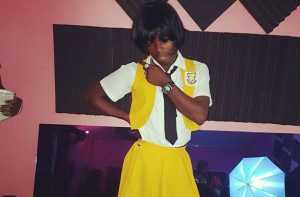 Nonetheless, now aware of just how big his videos could go, Reynolds got the spark he needed to ignite something big.
"I used to do comedy but I was like this on the low person. After I did my dry swimming video that was in 2016, that was like the biggest video coming out of Guyana over 60-something million viewers within three months, that video went viral all over the world. And since then I decided to create my page Kunchi TV," Reynolds said.
Since then Reynolds has developed on his videos, doing regular weekly videos and introducing regular characters like "Miss Pepper", "Black Girl", "Kunchi", along with Miss Pepper's brother "Swaggle" and grandmother; all of which are played by Reynolds himself.
Aside from acting in the videos himself, Reynolds often enlist the help of his wife, Rodlyn Reynolds, and friends Anthony Alleyne, Tavis Johnson, and Ellis Forde.
"Miss Pepper is the educated one, [but] she's very 'warrish' but she likes to educate others also, especially females," Reynolds explains
"Black girl is another 'warrish' person she's always fighting for people man, and well Kunchi he's the influence, he would always influence he friend. Anything he could influence you to do he would do that, always the one to boost you up. Swaggle is Miss Pepper 'pagalee' brother that like talk out she story; Miss Pepper like talk and he more like talk. The grandmother is more of a church lady, she's a little old fashion and she always want to see things go right."
Reynolds is happy to be on his own and finally be in control of his comedy, he was not satisfied with how he was being treated when he performed for promoters.
"After Mori J Van it just give me the idea that I should continue doing comedy. But people wanted to underpay me, giving me next to nothing money. I getting sell out shows and when the shows done sell out they giving you $5,000 and $10,000," Reynolds related.
"So I seh you know what, I love comedy so much is best I do it for the fun of it nah money thing". And so after that dry swimming video go viral I just start making stuff and put it on Facebook, and people start liking it, and then I decided to create a female character that I could actually send a message and people would listen, because my platform is reality and I put the fun into it and people start to like it and that's how I continue doing what I'm doing and I'm not stopping."
And he has no reason to anytime. He's already being approached by companies to buy his work, but he's taking his time on signing those contracts anytime soon.
"The first contract was in 2014 from a company named Drunken Media in California and they wanted to license the [Rio Dry Swim] video that I did that went viral, and recently I got another contract but I have to go to Canada to sign that contract, and that's to do comedy videos," Reynolds said
After having a lawyer look over the first contract, Reynolds said he realised that the company wanted exclusive rights to all of his work and he was just not having it.
"The contract in California, I give up that contract because the contract wasn't legit but I'm signing another contract in Canada and I'm now pursuing my dreams," he said.
He's also making other moves locally. Recently, "Miss Pepper" made an appearance at the "Uncensored 10" comedy competitions.