MINISTER of Communities Ronald Bulkan has said that the Mayor and City Council (M&CC) ought to have "valid and justifiable" reasons if it wants to bring an end to the existing contracts between the municipality and its two main garbage contractors.
Speaking with the Guyana Chronicle on the sidelines of an orientation workshop for the new councillors at City Hall, Bulkan said he does not believe that the issue has been fully settled. "My own position is if there's an existing contract, unless there are valid and justifiable reasons for the council to seek to bring that contract to an end; that would not be the proper thing to do. But to the best of my understanding, the negotiations are in process," Bulkan stated.
Deputy Mayor Alfred Mentore also told the Guyana Chronicle on Thursday that while he is not opposed to the use of the smaller contractors, the municipality ought to take into consideration that it is bound by a contract with Puran Brothers Disposal Services and Cevons Waste Management Inc. for a period of five years, expiring in 2020.
"I came here and met that contract. I do agree that there was a breakdown between the parties, but that breakdown didn't come about because of lack of performance of Cevons and Purans, but that came about because of lack of performance on our side," Mentore expressed. He said he can understand why the contractors opted to act the way they did. "It's a natural process for somebody to suspend if they are not being paid. Anyone, if they are not being paid, could not just continue."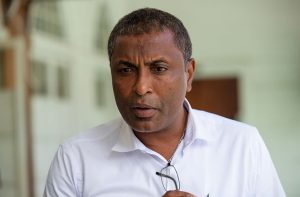 Mentore is also arguing that the decision to continue with the smaller contractors until January 31, 2018 was not one that was made by the council. "It wasn't one of those things that I agreed to because it wasn't a decision of the council. If it was, there was going to be a voting process. And there wasn't a process of that nature, so I don't recognise it as a decision of the council."
Representatives of the two main garbage contractors are disappointed with the stance taken by M&CC to extend the lives of the smaller contractors who were hired after the two main ones opted to pull their services in December. The City Council is arguing, based on a legal opinion, that the contractors have both rendered their contracts null and void by deciding to terminate their services. Based on the contracts in place, the contractors' option would have been to take the City Council to court, as opposed to suspending their services, the M&CC has argued.
"Their position is very unhealthy for our business. This is not good for business; not very encouraging for business at all," Manager of Puran Brothers, Kaleshwar Puran, had told this publication.
Due to it being a five-year contract, Puran said the company would have invested in the job for that period of time and set up certain facilities. "We have a lot of employees who could become affected; not just the direct employees but the support staff as well." Puran said these are the circumstances even though the company was not at fault at any point in time.
Business Development Manager at Cevons, Morris Archer, told the Guyana Chronicle that the company simply did not have the resources to continue working without pay. "If you aren't getting paid, at some point you'd have to stop working. We're disappointed. The same way they're paying the small contractors, they could have paid us. But they not paying us, yet they're taking on new contractors," Archer expressed.