SHIVANEE Ramlochan is a Trinidadian poet. She is important because she is one of the important voices to represent the modern era of Caribbean poetry. Her work is of the kind that will eventually become definitive of the time and place in which it was written. So, for example, many years into the future, it is possible that readers will look to Ramlochan's work in order to establish and analyse the history or social/cultural landscape of Trinidad or the Caribbean, or her work may become one of several reference points for those inquiring about Caribbean literature in the post-2010 era.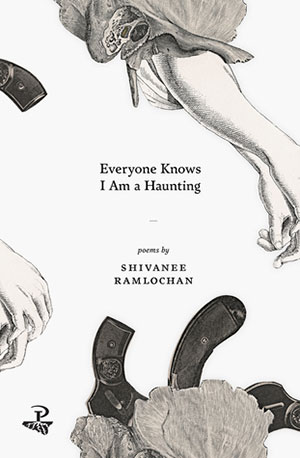 I say this because her work is poignant and reflective of the author's immense talent, while also being reflective of the current nature of the world in which she lives and writes. Her work is wholeheartedly Caribbean while remaining accessible to everyone who comes to it. This ability to be specific and yet accessible is particularly well-expressed in her poetry collection, "Everyone Knows I am a Haunting," which was published by Peepal Tree Press and shortlisted for a 2018 Forward Prize for Poetry. This collection is a multifaceted thing of wonder, each line hissing, whispering, or bellowing a bevvy of important truths that those of us within the Caribbean know and feel all too well.
In one poem entitled 'The Abortionist's Daughter Declares Her Love,' Ramlochan writes: "When men aspire to terrible jobs, we offer them hushed respect / the blushing necks of virgins" before going on to point out that when women do the same jobs, they "are taught to deserve nothing more than an acreage of sorrow." Highlighting the patriarchy and its ever-extending tentacles is definitely one of the jobs of a poet and it is one that Ramlochan takes very seriously.
In the example above, she points out the hypocrisy of inequality between men and women – in verses that might be referencing everything from the rise of patriarchy in the early days of ritual and virginal offerings to the very modern-day crisis of wage inequality. This ability to connect to items and ideologies that are separated by time, cultures, sex and sexuality, is one of the poet's many gifts.
In forming bridges in her poems, by weaving them with her words, she is also managing to create a bridge between reader and poem and, on a deeper level, ideology with ideology, in a confrontation that is necessary for the occurrence of the realisation that is going to contribute, in part, to the essential wave of change that is necessary for those of us within the Caribbean and the wider world who long for the day when needs such as equality between the sexes will become universal.
While there is an anger and a sorrow that blaze through the collection, each poem contains moments of immense beauty. In one of her poems, "Fire Fire," Ramlochan writes, "I am from islands… Fire, fire / he soothes into my brow. His grandmother was the one to feed him these poems, and to keep my red skin warm he shares her battle stories."
The relationship between the two people presented in this poem is one that is obviously built on love, but the language used seems to indicate that the relationship is one that has all the synergy and heat of the tropics, while also being built on the ways in which the persona is bolstered and helped by his/her lover who gives their all to the persona, to the point where the speaker is connected to fire and the lover, drained, is connected to something cold. The speaker is strong, taking everything he/she needs from the lover.
The secret to fully understanding/appreciating this poem, I believe, lies in the early line of, "I am from islands." This line indicates that the speaker is not a normal man/woman, as the poet seems to be implying that those from the islands (the Caribbean) should not be misjudged and that their strength and all they are capable of (even immense hurt or death) should not be misunderstood or not taken as it is in all its power and glory.
It is a poem that reminds us in the Caribbean of our own strength, while also drawing attention to our capacity for causing immense pain. The contradiction between the islands (Caribbean) and the cold place (Europe/North America) might be indicative of colonialism, which can further be interpreted as an origin for both our immense strength and our capacity for hurt. It might also be a reversal, where the speaker from the islands is taking back and rendering the cold lover helpless – an act that is as much about postcolonial worlds as it is about romantic relationships.
"Everyone Knows I am a Haunting" is a slim volume containing over 40 of the most important poems to come out of the Caribbean in recent times. It is a work that addresses everything essential in Caribbean literature: sexuality, identity, dismantling the patriarchy, navigating through power dynamics – while also presenting all of these elements in new and interesting ways that definitely reflect the sensibilities and goals of the modern Caribbean poet.