— Min. Ramjattan hints at major probe into alleged corrupt transaction
PUBLIC Security Minister and Vice-President Khemraj Ramjattan said the police are investigating and closing in on the case of bribery of former government Member of Parliament (MP) Charrandas Persaud to support a motion against his government.
"We are now learning that there is absolutely a connection with bribery, of some big sum of money… money which I understand he had wanted to transfer overseas and all of that," Ramjattan declared on a National Communications Network (NCN) show, Context, on Sunday.
Speaking to host Enrico Woolford, Ramjattan said the evidence is being gathered to show that Persaud was not only compromised, but that there are members of the People's Progressive Party (PPP) who were fully aware of this when they brought the confidence motion against the government.
"We are having it [evidence] because he has spoken to people," replied Ramjattan, when asked if there was evidence to support the claim that Persaud was bribed.
"It is clearly a case where he is compromised and obviously those who moved the motion, or at least one person who moved the motion, knew about this. They knew that they had Charrandas in the bag. Now that is not the kind of democratic process we want for this country. You had to know you had somebody in the bag."
The APNU+AFC government has a one-seat simple majority in Parliament, accounting for 33 of the 65 MPs. Despite having only 32 members, the opposition PPP tabled a confidence motion against the government last month. Opposition Leader Bharrat Jagdeo at a press conference shortly before the motion was debated noted his optimism that at least one government MP would vote for the motion.
Persaud defected from the government during the voting process and supported the passage of the motion. It has since been alleged that Persaud was bribed to vote against the government.
These allegations were further fuelled when photographs surfaced of Persaud being escorted out of Parliament by PPP supporter Peter Ramsaroop after his vote. Later, Persuad himself questioned why it would be wrong if he was paid.
"… even if I was paid, was it wrong to support the no-confidence motion against the government?" he asked in a video he posted on his Facebook page.
The government was completely blindsided by Persaud's vote, particularly since he had only days before sang praises of the government as he voted for passage of the budget.
BEAUTIFULLY ORGANISED
"This thing was organised beautifully. All that will come out of the investigation going on because Guyanese don't want that kind of politics in Guyana anymore," Ramjattan noted.
"We are going to go very far and deep into it and those who would've done that they will pay the penalty. We've already been doing investigations with the senior members of the government. Very valid investigations, you don't have to say we are politically motivated, we are not. The President, the prime minister, the entire Cabinet want genuine political practice and what we saw there is absolute [sic] ridiculous."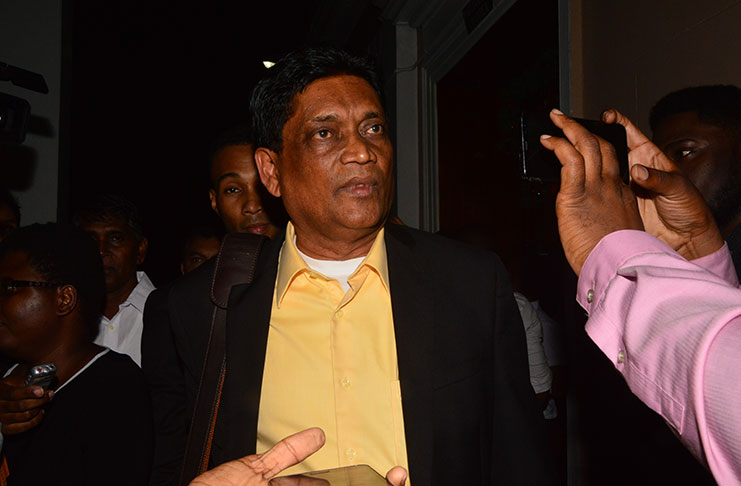 Only recently at a function in Canada Persaud hinted at supporting the PPP.
"The next question has to do is that how we must do our democratic practices? Should we pay somebody off and then cover it up with a conscience. He always criticised how the PPP government is the one that bring the sugar industry down. He was doing that long before [he joined the government, that is why we were attracted and appealed to [him to] come on board with us. He was genuinely constructive and saying that the PPP is the bad one," Ramjattan noted.
The validity of the no-confidence motion, as well as the legality of Persaud's vote is now being questioned. It is being argued that the opposition in fact needed 34 votes for the motion to be passed.
MISCALCULATION
Attorney General and Legal Affairs Minister Basil Williams submitted that there was a miscalculation of the majority of all elected members as required under Article 106(6) of the constitution for the government to be defeated on a vote of no-confidence.
"In order for the government to be defeated on a vote of confidence, 34 or more votes of all the elected members in favour of the motion was required instead of 33. This assertion is grounded in established parliamentary precedent and practice and case law in the Commonwealth," Williams said in a report to Cabinet.
Ramjattan said this avenue is being challenged to bring clarity to the issue and to ensure democracy.
"It is important that people just do not follow through with what is regarded as a simplicity. This addresses this question, that must deal with the context of the interpretation," Ramjattan said, noting it is not about delaying the motion, but ensuring democracy prevails.
"It is not delaying, it is about having clarity and that is how democracy is developed. If it were now to happen in 2020 or 2025, people will learn and say it has a ruling. We are preparing fertile ground for the education for what happens in a scenario like this, so the mistake is not made. And the final ruling and we will abide by that."
Another argument is the legitimacy of Persaud as a Member Parliament, given that he holds a passport and possessed the rights and obligations as a citizen of Canada.
According to Article 155 (1) (a) of the constitution, "No person shall be qualified for election as a member of the National Assembly who is by virtue of his or her own act, under any acknowledgement of allegiance, obedience or adherence to a foreign power or state."