— President Granger says gov't will do everything to facilitate smooth elections
— will meet with Opposition Leader Bharrat Jagdeo
ONE day after his government was effectively voted out of office, President David Granger assured that his administration will abide by the Constitution which stipulates that general elections must be held within 90 days of a successful no-confidence motion.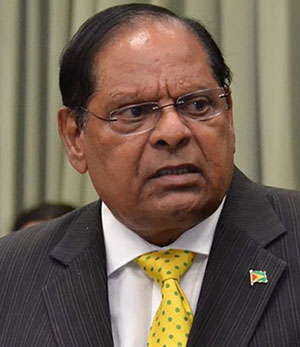 In an unsuspected move Friday night which shocked the nation, Alliance For Change (AFC) Member of Parliament (MP) Charrandas Persaud threw his support behind the Parliamentary Opposition – the People's Progressive Party/C (PPP/C) – to pass a no-confidence motion against his government. AFC forms a major part of the A Partnership for National Unity + Alliance For Change (APNU+AFC) Government which holds a one-seat majority in the National Assembly.
In a press statement on Saturday issued by the Ministry of the Presidency's Public Information and Press Services Unit, the Head of State said his government will embark on discussions with its coalition partners the AFC and APNU as it charts a way forward.
"We will do everything necessary to facilitate the smooth functioning of General and Regional Elections bearing in mind the need for normal governmental functions to continue uninterrupted," President Granger was quoted as saying.
Article 106 (7) of the Constitution of Guyana states, "Notwithstanding its defeat, the government shall remain in office and shall hold an election within three months, or such longer period as the National Assembly shall by resolution supported by not less than two-thirds of the votes of all the elected members of the National Assembly determine, and shall resign after the President takes the oath of office following the elections."
The President said too that he is anxious to engage Opposition Leader Bharrat Jagdeo on any concerns he may have.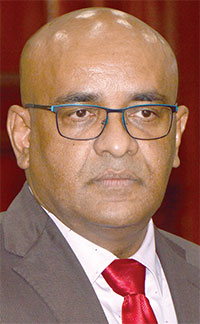 "Mr. Jagdeo contacted the minister of state and a meeting will be arranged as early as possible so that his concerns can be addressed," the President added.
President Granger said there is no need for confrontation.
"This is a constitutional process which can have favourable outcomes for the nation… There is no cause for alarm and there are no grounds for any form of disorder and we will continue to work to provide a good government and deliver public services to the people and to work even more closely with the opposition," he explained.
President Granger disclosed too that he met with some ministers on Saturday morning, who will be engaging the AFC ministers.
At a late night press conference on Friday at the Public Buildings, Prime Minister Moses Nagamootoo had told reporters that while the outcome of the motion was not favourable, it must be respected.
"The outcome has to be accepted and we want our supporters, in particular, to understand that we are going back to the polls," the prime minister said.
He said government and its advisers will meet to explore and discuss available options and their timelines.
Like the President, he too called on all Guyanese to respect to outcome of the motion, and to conduct their business as usual. The no-confidence motion was filed by Opposition Leader Bharrat Jagdeo in mid-November shortly after it was announced that President Granger was suffering from Non-Hodgkin Lymphoma, a type of cancer, and would require constant treatments abroad.
Shortly before MP Persaud crossed over, Prime Minister Nagamootoo, during the debate, told the House that the no-confidence motion was a "self-serving" move by the opposition leader and his supporters, noting that it was the opposition's motive to destabilise the government and by extension the country.
He said PPP/C Member of Parliament Irfaan Ali is hoping to have the 19 fraud charges before him dropped, and from all indications will stop at nothing to achieve that objective.