—Keevin Allicock adjudged Best Boxer of tourney
GUYANA are once again the Caribbean boxing champions after winning 15 medals at the 2018 edition of the championship which concluded on Sunday night at the Cliff Anderson Sports Hall (CASH).
Known world-wide for its tremendous gold resources, Guyana's boxers picked up 10 gold medals, three silvers and two bronze to regain championship honours which they surrendered last year in St. Lucia when that Island hosted the tournament.
The locals had won the inaugural Caribbean Boxing Championship when Guyana hosted the tournament in 2015 and subsequently made a successful defence of the championship title in Barbados in 2016, but in 2017, due to financial constraints, could only have sent four boxers to the championship which was hosted by St. Lucia.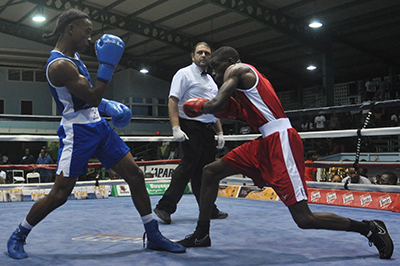 Despite this small contingent of boxers, the Guyanese won three gold medals and one silver.
Bantamweight boxer and 2018 Best Boxer, Keevin Allicock, middleweight Desmond Amsterdam and light welterweight Colin Lewis, all won gold medals, while Joel Williamson won a silver medal.
This time around (2018), the host team (Guyana) fielded a 31-member team and came out victorious.
The pick of the local team was Allicock, who was adjudged Best Boxer after registering points-decision victories against Trinidad and Tobago's Anthony Joseph and Barbados' Ajayi Jones in the bantamweight category of the Elite Class.
It could be contended that Allicock's speed, clinical display of boxing and his aggressiveness caused him to be named Best Boxer of the championship.
On Sunday night, there was one knock-out win, seven bouts were stopped by the referee and five fights went the distance (three rounds).
In the lightweight final of the Elite Class, Guyana's Jamal Eastman knocked out Trinidad's Jessie Edwards at 33 seconds of the second round to register the only knock-out of the night.
Registering technical knock-out wins were Guyana's Astion Niles, who caused the referee to stop his novice lightweight contest against Dominica's Delroy Charles in the second round. Cayman Islands' Brandy Barnes had his fight against Guyana's Joanne Williams stopped at two minutes 15 seconds of the second round in his (Barnes) favour, then Guyana's Quincy Boyce scored a one minute, 55 seconds stoppage win against St. Maarten's Shemar Beartam in their novice's welterweight bout.
Winning for Guyana also were Aleisha Jackman and Abiola Jackman in the female category, Amsterdam who defeated St. Lucia's Arthur Langalier in the middleweight final, and Markember Pierre who defeated the US Virgin Islands' Delon Pruitt in the light heavyweight class.