ON December 2, 52-year-old American Airlines (AA) pilot Captain Wayne Gumbs became the first Guyanese to fly the newly sanctioned Miami to Georgetown AA flight to the land he calls home.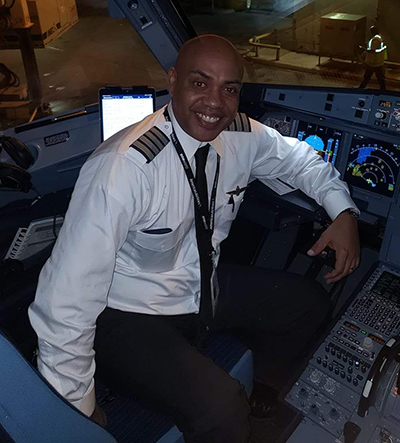 What started off on the West Bank of the Demerara River as a young boy's fascination with planes, led to his journey around the world with his hands on the wheel and with fate's eyes steering him back to where it all began.
Before flying for the world-renowned airline which has an average of nearly 6,700 flights daily and some 350 destinations, Gumbs spent half of his early childhood growing up in the village of Uitvlugt.
During this time, his father, the late Professor Frank Gumbs was a Field Superintendent at the Uitvlugt Estate while his mother, Barbara Fowler was a library assistant at the Carnegie Free Library.
After his father left Guyana for Canada in 1967 to acquire his PhD in Soil Physics, he later accepted a job at the University of the West Indies (UWI) in Trinidad and Tobago and at four years old, the young boy with a fascination for planes finally went up in the air for the first time.
"Every young boy has a dream like 'I want to be a policeman, I want to be a fireman'. To me, just flight is fascinating in itself. I would ask my dad to just go to the airport and just watch planes take off," Gumbs recalled.
"When I was leaving Guyana to meet my parents, I vividly remember just getting on the airplane and just the sensation, the sounds, the feeling when the airplane accelerates down the runway, I just knew it. It's just something you know but it's hard to explain."
Gumbs would later spend most of his high school years on the twin island and, during his college years, he attended the California State University in Fresno where he acquired his Bachelors in Business Administration.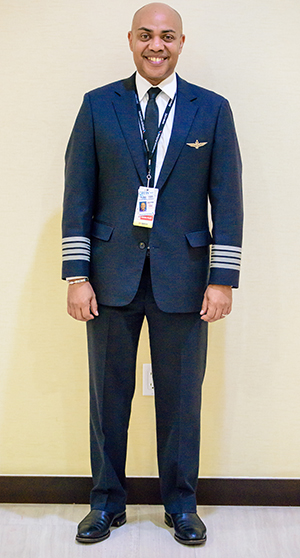 "To my dad, degrees were his thing but I told him when I graduated that I still wanted to be a pilot and he said 'okay, well you showed me that you have the skills to at least go and get a first degree. We'll pay for your pilot training,"Gumbs explained.
STARTED FROM THE BOTTOM
After college, he worked at a company which fueled airplanes and at a hotel as a night auditor where a few of the employees there worked as ramp agents at American Airlines.
Soon, so would Gumbs, loading the luggage of hundreds of thousands of passengers heading off to all parts of the world.
He told the magazine: "I started with American Airlines from the bottom, on the ground, loading bags at the airport; cleaning the airplanes at night; fueling the airplanes and that sort of stuff just to get around the airplanes. And then I started taking flying lessons at the airport in California, got all my ratings: my private, my instrument; my commercial."
Moving up wasn't easy. While working at American Airlines, Gumbs noticed that the new Guyana Airways was hiring pilots and so he took a leave of absence and travelled all the way to England to complete the Civil Aviation Authority (CAA) pilot licensing, the one accepted in the Caribbean.
However, by the time he returned he was out of luck — the company was no longer hiring.
"So, I came to Guyana and I sat at Ogle waiting for someone to pick me up whether it was ASL Airlines or Kayman Sankar Aviation at the time or Trans Guyana. No one took a bite of me, so I went back to Trinidad and decided that I was going to study the Skyvan technical exam and the Twin Otter technical exam and then, hopefully, Guyana Airways will take a look at me."
A TURN OF LUCK
As fate and hard work would have it, in November 1993 Gumbs received the call he hoped for and began flying as a co-pilot to the interior regions of Guyana at age 27.
"Everyone thinks Guyana is just Georgetown but there's so much more to this country than just the city," he said. "Originally I thought 'I want to be a jet pilot, I want to fly a big airplane' but the best flying I ever did – stick and rudder, just relying on the skills on handling the aircraft – was flying in the interior."
Some of the colleagues he remembers from his time in Guyana's aviation sector include Captain Lloyd Marshall; Guyana Civil Aviation Authority (GCAA) Director General Lt. Col. (Ret'd) Egbert Field; Captain Guy Spence; Captains Patrick Nichols; Captain Alvin Clarke; Captain Mike Rogers; Captain Gerald (Gerry) Gouveia and others.
He continued at this for three years until the opportunity arose for him to apply to American Eagle, the commuter carrier for American Airline.
Gumbs grabbed a hold of the opportunity with both hands and applied in 1997, and was hired as a co-pilot to man an ATR 42 twin-turboprop in San Juan, Puerto Rico.
Just one year later he moved a step forward, being employed by American Airlines as a Boeing 727 Flight Engineer in his early thirties.
"I took my dad as my guest to the New Hire Orientation. He was very proud and it made me very happy to show him that a boy at aged three knew what he wanted and here he is doing it with his father's help and blessings," Gumbs recalled.
There, with his seniority, he was able to bid for flights which saw him operating as a co-pilot on the Boeing 757 and 767 from 1999 to 2004.
When his father was diagnosed with cancer during this period and sought treatment in Miami, Gumbs did the Trinidad to Miami flights so that he could be the pilot to fly his father and mother.
"It was an honour to do that," he told the magazine, noting his dad's passing in February 2004.
During this period, too, Gumbs reminded that the September 11, 2001, terrorist attacks had caused the airline industry to take a dive.
Economies all over the world were crashing and over 3,000 pilots were laid off between 2001 and 2004.
NEW TERRITORY
Gumbs was able to escape the full effect by taking a voluntary furlough, so that a junior pilot would be able to keep his job and he applied to Emirates Airlines in the United Arab Emirates in 2005.
With his assets, he was hired as a Boeing 777 co-pilot for two years, later upgrading to the position of captain in 2008.
"It was a great job. I got to deliver brand new airplanes for the factory in Seattle, I flew them to Dubai and I got to see places all over the world that I don't think I'd ever see, flying for even American Airlines or Delta or any other company," he said.
Being in the Middle East for nine years, Gumbs met his wife Maryam in Dubai, a nurse now working in the US and an Iranian by birth.
The two met while she worked as a flight purser at Emirates Airlines on a flight from Dubai to Johannesburg and have been married now for 10 years.
While in Dubai he also completed his Master's Degree at Embry-Riddle Aeronautical University Worldwide in Aeronautical Science with minors in Aviation Safety and Aeronautics, graduating in 2013 with distinction.
In 2013, Gumbs decided to return to American Airlines as it was rehiring pilots and there he was senior enough to co-pilot a Boeing 777 until upgrading to an Airbus 319/320/321 Captain in October 2018.
BACK HOME AGAIN
On Sunday, December 2 at 22:29hrs, Gumbs landed the flight on local shores proudly announcing to the passengers that he was the first out of 10 Guyanese-born AA pilots to fly the plane home.
The passengers broke out in rounds of applause with both locals and foreigners alike moved by the significant achievement.
"A young boy had a dream and with hard work; with guidance from mentors; with focus you can do anything you want to do. Don't let anyone ever tell you that you can't attain whatever your dream is. I never in a million years would have thought that I would have become a pilot; fly for the major airline and actually become Captain and fly back to Guyana," Gumbs said.
The message he sends and he leaves behind is: "If someone told me this 50 years ago, or 20 years ago, even 10 years ago I would not have believed. I hope that I can be an example to someone [to say] put your mind to something and you can do it. But, you have to remain focused. They're going to be distractions, they're going to be setbacks, they're going to be difficulties but if you stay the course, you will succeed."