…AG naming of suspects roils opposition
Attorney General and Minister of Legal Affairs Basil Williams SC on Friday riled up the opposition after naming a list of corruption suspects currently before the courts -many of whom are former government ministers-some sitting as Members of Parliament.
At one point the Speaker of the National Assembly, Dr Barton Scotland had to caution Williams not to mention names after vociferous complaints by the opposition. Williams was at the time making his contributions to the budget debate during which time he outlined that the APNU/AFC Government continues to have combatting corruption on the front burner. "The Government has been working to fight against all forms of corruption and our policy is that corruption must be eliminated.
This Government recognises that corruption hinders economic growth and development and undermines public confidence in the administration. The Government therefore continues to strengthen its anti-corruption mechanisms and formulate strategies to ensure that all Guyanese, not some, can enjoy the good life," Williams told the House.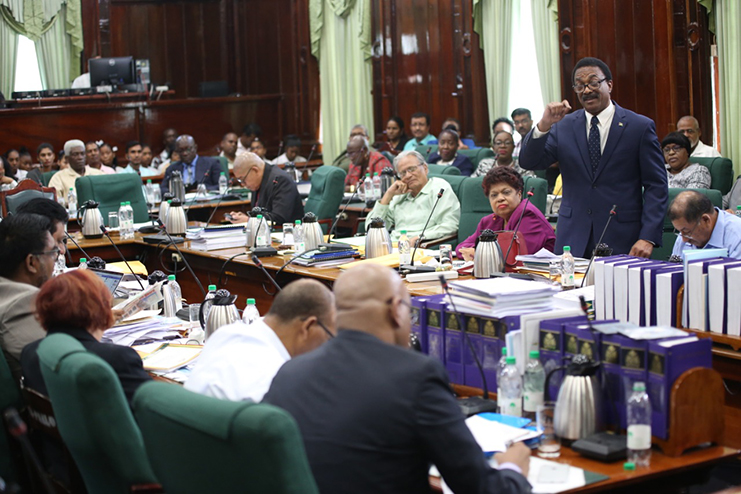 She spoke of the many seminars the AG Chambers has held and promised that these will continue along with training programmes next year. He then turned his attention to the Special Organised Crime Unit (SOCU) noting that this agency continues to be focused on Money Laundering, Weapons of Mass Destruction Proliferation and Terrorist Financing, given that the Fourth Round Mutual Evaluation in 2022 requires more convictions to show sufficient progress on effectiveness by the law enforcement agencies more specifically, the SOCU of the Guyana Police Force.
According to Williams SOCU has seen significant improvement in the number of files referred for prosecution for its core function and other financial crimes. "Mr. Speaker, since the amendment to the AML/CFT Act which made money laundering a hybrid offence the FIU during the period October 2017 to October 2018, submitted eighteen (18) ML/TF referrals to SOCU inclusive of Mr. Shervington Lovell. This has resulted in several criminal and civil files for prosecution including one (1) ML file referred for prosecution and two (2) Civil Forfeiture applications to the High Court.
Additionally, the AG mentioned that the cases referred for prosecution over this period includes the GBTI cases, the Omar Shariff case where the former Permanent Secretary of the Office of the President is being investigated for $20 billion dollars; Guyana Gold Board, Ashni Singh and Winston Brassington- who are on eight charges of misconduct, GRDB case (132 counts of keeping fraudulent accounts of body corporate or public company($428,328,940) involving PPP MPs Dharamkumar Seeraj and Nigel Dharmlall; MP Anil Nandlal who has been charged with one count of larceny by a bailee ($2,313,853) , Irfaan Ali-19 counts (Pradoville 2 lands-$174,824,388) and Guyana Marketing Corporation ($31,588,303).
"Mr. Speaker this figure is excluding twenty two other forensic audits/ corruption type investigations involving billions of Guyana Dollars. Currently, there are more than 40 files awaiting the decision of the Honourable Chief Justice, Madam Justice Roxanne George with respect to the issue of Misconduct in Public Office. Further, there are about fourteen (14) other files awaiting evidence from State Agencies for criminal charges to be instituted. Mr. Speaker, there are several investigations that have been held up as a result of the Magistrates Court's refusal to grant Court Orders where there are no pending cause or matter before the Court. This is pursuant to the Evidence Act Cap. 5:03."
Repossession of lands
Touching on the work of the State Asset Recovery Agency (SARA), Williams said this body's role is to recover stolen national wealth. He said the agency has been working on 25 cases referred to them by the Police Legal Advisor plus other referrals. Presently, the agency has five cases, which are 90% complete and are only held up because requests for information have not yet been fulfilled. Additionally, several agencies are still going through mountains of old documents to find the relevant pieces of information which are needed to wrap up cases.
"Mr. Speaker, there are another 12 cases with a possible recovery value of over $2 billion that are about 70% complete. SARA, working with NICIL was able to have 3 pieces of Government property repossessed from delinquent leasees. Two of these properties are again on the market and interested parties are prepared to pay 300% – 400% more than the previous tenants. The third piece of property was sold to GRA for $60M."
Williams said SARA working alongside the various agencies which have the responsibility for lands, was able to provide information, which led to the Guyana Forestry Commission repossessing approximately 2,000,000 acres of Forestry lands; Lands and Survey Department repossessing approximately 80 house lots; GuySuCo was able to repossess 100 acres of land plus several smaller pieces. "Further, Mr Speaker, SARA, working with ministries and Regions led to improved inventories of equipment and the repossession and reallocation of more than 30 buildings across the country."
According to the AG, SARA working with the Ministry of Legal Affairs and Ministry of Foreign Affairs is seeking to recover revenue loss through gold shipments leaving Guyana. "There have been several cases where amounts declared at Cheddi Jagan Airport were vastly different to what was declared at J.F.K. in New York." He said SARA is also presently seeking cooperation with Brazil to identify and if possible recover gold held in Brazil due to illegal activities by Guyanese smugglers.
Williams said since corruption is at the root cause of Government property being stolen, the less the nation loses, the less the need to recover, hence SARA has made meaningful contributions to the anti-corruption efforts.
"Mr. Speaker, available figures as cited in a series of articles written 2012-2014 show the Government of Guyana losing billions per annum in Procurement Fraud. Tens of billions were lost in Illicit Capital Flight and tens of billions due to the activities of the underground economy. While the analysts in SARA are still working to obtain current figures using three International Indices as references, we have moved several points in the right direction," the Attorney General said.