"THE key to long life is to have a close relationship with God." This is the secret of Sarah Moses called 'Aunty Sarah', who is celebrating her 100th birthday Today November 20.
The Guyana Chronicle visited Aunty Sarah at her Middle Road, McDoom, East Bank Demerara home where she recalled all her memories from years ago like it were yesterday.
Mrs. Moses was born on November 20, 1918, in Saint Laurent-Du-Maroni, French Guiana and relocated with her parents to Guyana in her early childhood.
Reflecting on her childhood and teenage days, she reminisced on her love for dressing and being self-determining. "I was living by myself and independent," she said.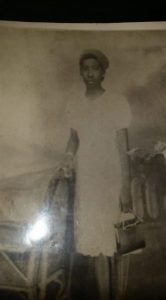 She had her first child at age 20 and in November, 1954, she got married to Mr. George Moses. She spent most of her life in Albouystown with her 10 children.
She was well known in the community for her sewing and catering skills, especially for her spectacular designs on wedding cakes.
This was her means of income to help sustain her family. During her life, she worked various jobs to provide for her family; even if it meant walking to work every day.
During the year of 1972, her family moved to Hadfield Street, Lodge where she continued to be a seamstress and provide her catering services to the community.
In 1983, she suffered the loss of her husband and was determined to make it for her children. "I had to make it on my own," she said as she did jobs such as babysitting and domestic work.
In 1988 she began working with the late Ms. Debra Backer, Attorney-at-Law and Member of Parliament, conducting light duties.
Six years later, at age 76 years, she was employed by then Chief Executive Officer (CEO) of the Guyana Telephone and Telegraph Company (GT&T), Ms. Sonita Jagan and was stationed in Bel Air Park, Georgetown where she served for approximately 10 years.
During these years, Mrs. Moses worked and lived on her own but in 2003, she lost her sight which made life very challenging. Currently in the care of her eldest daughter, Mrs. Moses provides words of advice, love and imparts wisdom on her remaining eight children, 29 grandchildren and 75 great grandchildren.
The 100-year-old chatty personality would invite anyone to sit down and turn a stranger to a friend.
"I think the most important part of living this long is to think of the maker, trust, believe, listen and we would go well…Don't turn away from hearing him because his words are faithful. He never leave you and will never forsake you," she stressed.
Today the Moses family is planning a birthday service as everyone comes together to celebrate the life of 'Aunty Sarah.'